So, trying something a little different today. Rather than a review, I'm posting something I made myself. A year ago, while probably slightly more intoxicated than I want to admit, I started ranting that She-Hulk should have her own show. It should be a superhero comedy about her life as an attorney involved in meta-human law. So, while very drunk, over the course of 7-8 hours, I looked up how to write a Screenplay and cranked out a pilot spec script, as well as a draft of 3 seasons (13 episodes each) of plot-lines. Naturally, my dreams were dashed by finding out that Marvel wasn't interested. Not that I'm opposed to doing it as an animated series, but it wouldn't exactly be the image I have in my head and as someone with no hope of ever getting this made, I'm allowed to pretend to have artistic integrity. It was written before Endgame or the Spider-Man fallout.
UPDATE: They've actually Green-Lit a She-Hulk show. Will it be better than mine? Probably, since they know what they're doing, but I'm posting this just in case they want some more ideas.  Seriously, guys, I've got so much done already.
If you want a casting image for She-Hulk, I think it's Alison Brie. Seriously, I think she'd nail it.
Anyway, here's a script:
FADE IN:
EXT. STREETS OF NEW YORK – DAY
EXT. WINDOW OF A MODEST NEW YORK APARTMENT
INT. THE SAME APARTMENT, THE HOME OF JENNIFER WALTERS
ALARM RINGS
JENNIFER WALTERS, late 20s to mid-30s, fairly muscular, hits the alarm. Clock says 6:30. Next to it are two broken alarm clocks. Jennifer sits up, looking like an actual human being when they wake up. She grabs a tissue to blow her nose, then notices the camera.
JENNIFER
AH!
She punches the camera.
CUT TO BLACK
FADE IN
JENNIFER is quickly brushing her hair. She reclines on the bed, and replicates the last scene, only now she looks like a traditional Hollywood sleeping female. Clock now says 6:45.
JENNIFER
Sorry about that, I didn't expect the show to get green-lit. (Pauses) That's not a pun. Anyway, I guess we're doing this.
JENNIFER has a look of dawning realization.
JENNIFER
CRAP!
She jumps out of bed and runs into the bathroom. The camera attempts to follow her, but she sees it and raises a fist at the camera. It backs off quickly and she shuts the door.
TIME PASSES
JENNIFER emerges in a towel and heads to the kitchen, clearly hurrying. She has four toaster ovens. She opens her pantry and there are a huge number of Pop-Tarts. She grabs two boxes, quickly unwraps them, shoves them all in the ovens and instantly sets them to toast. She then runs back to her bedroom and shuts the door.
JENNIFER comes out wearing courtroom attire, her hair in place, carrying her heels in her hand. She throws them on the floor and steps into them as the toaster ovens all go off. She pulls all of the Pop-Tarts out and puts them into a sandwich bag, grabbing one out and devouring it as she runs out of the door. She re-enters to grab her computer bag from beside the door before leaving then pulls out and eats another Pop-Tart.
JENNIFER makes her way through the streets of the city, still in a rush. She gets to a street corner and is caught at the light.
BYSTANDER (O.S.)
Stop! Thief! He stole that woman's purse!
A THIEF is running through the crowd, knocking people over. As he gets nearer to JENNIFER, she casually looks over at him, then looks around to see if anyone else is going to intervene. Seeing no one, she sighs and moves her computer bag off her shoulder. She looks directly into the camera, annoyed.
JENNIFER (To Camera)
I knew it. I just knew this was going to happen.
(Checks her phone)
Fortunately, I left in time for the… oh, dang.
As the thief approaches, she takes a step back, getting out of his way. As he passes, she throws the shoulder strap over his head and then pulls back, choking him and slamming him backwards onto the ground, catching his head with her foot so that he doesn't get a concussion. The purse flies backwards, and Jennifer catches it with her other hand. She pulls her foot out from under his head, then puts it on his throat before he regains his faculties. She applies gentle pressure. As he starts to move, she pushes down harder.
JENNIFER
Please don't.
THIEF
(choking slightly, surprised that he cannot seem to move)
Get off me, you crazy bitch!
JENNIFER
   (only slightly interested)
Yes, that's what will convince me to let you go. The sparkling compliments.
JENNIFER dials a number that is not quite 911.
   JENNIFER
Hi, this is Jennifer Walters, Approved Civilian Code: SH0280. Letting you know there's a non-meta for pick-up at the corner of Hester and Mott. I'm gonna secure and take-off.
THIEF
(still choking)
Get off me!
JENNIFER checks her phone. Then looks around and sees JIM, a large man, standing nearby watching the scene, stunned. She motions for him to come here. He complies.
                                                                    JENNIFER
Hi. What's your name?
JIM
Jim.
JENNIFER
Jim, hi, nice to meet you. My name's Jennifer, and I'm kind of in a hurry. Can I ask you a favor?
JIM
Uh, Yeah, okay.
JENNIFER
Great. Can you just step right where my foot is now?
JIM
On… On his neck?
JENNIFER
Yeah, sorry, but I actually should get going, and the police probably won't be here for a few minutes, and it's way easier to keep them down like this, as long as you let them know you'll crush their windpipe if they keep resisting. So, you just put your foot right there.
JENNIFER motions towards her foot. JIM remains hesitant.
JENNIFER
(slightly more forcefully)
Right there, Jim. It's just going to be for a few minutes.
JIM puts his foot on the THIEF's throat as JENNIFER withdraws her foot.
JENNIFER
Thanks so much, Jim.
JENNIFER pulls a set of handcuffs out of her bag. JIM looks at her confused and surprised, but she ignores him and forces the THIEF's hands into the cuffs.
                                                                    JENNIFER
And you can take that.
JENNIFER hands JIM the stolen purse. A dog pops out.
JENNIFER
What the hell?!! Oh. Okay. So, that's a thing.
FEMALE VICTIM, young woman, dressed far too fashionably to be practical, runs over and grabs her purse from JIM. She is clearly supposed to be an over-the-top comic book victim.
FEMALE VICTIM
(To JIM)
You saved Mr. MacGuffin! Oh, thank you so much. You're my hero.
FEMALE VICTIM grabs JIM and hugs him in gratitude.
JIM
What? Oh, no. It wasn't me, it was –
JENNIFER
(Cutting him off)
It was all in the reflexes. He's being too modest. Well, Jim, I'll go ahead and let you tell her how you stopped this dangerous criminal.
THIEF
What? It was –
JENNIFER kicks him quickly.
                                                                    JENNIFER
You can go ahead and put your foot back on his neck, Jim. Well, great to meet you. Bye. Oh, and remember, crush the windpipe if he tries to resist.
JENNIFER crosses the street, checking her phone again.
JENNIFER
(To Camera)
Ha! Still not running late. Suck it, screenwrit-
Suddenly, a large explosion bursts out of a building down the block. A man dressed as a bullfighter walks out with a flag bearing the Standard of Francisco Franco.
                                                                    MATADOR
(With BAD Spanish accent)
Citizens of the pathetic United States. Tremble before the fiery fury of the brazen bullfighter of Barcelona, the Matador! Ole!
JENNIFER looks at him, then back to camera.
JENNIFER
(To Camera)
Really? Can I at least get a team up? Maybe a celebrity guest for the pilot?
She looks around. No one appears to be coming/a random celebrity shakes his/her head. She laughs to herself and puts her computer bag on the ground.
                                                                    JENNIFER
(Directly to Audience)
Fine. I guess I had this coming.
JENNIFER takes her jacket, shirt, and skirt off, revealing her superhero tights.
JENNIFER
(To Audience)
Fine. Everyone runs late in a cold open anyway.
As she runs towards the camera, she transforms into SHE-HULK, a larger, green version of herself with green-black hair who wears a purple leotard.
CUT TO:
OPENING CREDIT SEQUENCE
TITLE: SAVAGE SHE-HULK, ATTORNEY-AT-LAW
                                                                                                                                CUT TO:
EXT. LAW OFFICE OF GOODMAN, LIEBER, KURTZBERG, AND HOLLIWAY – DAY
A large office building in New York.
INT. LAW OFFICE OF GOODMAN, LIEBER, KURTZBERG, AND HOLLIWAY – DAY
An upscale New York Law Firm located in a high-rise office building. The elevator doors open as JENNIFER steps out, along with LOUISE MASON, late-50s to late-60s, blonde or graying blonde, former vigilante several decades ago, native of New Jersey. The elevator empties into a lobby with an elaborate reception area. People sit, waiting to speak to their attorneys, including a few people in masks, and a few others sporting visible fight injuries, indicating they might be superheroes in civilian attire. A large sign bears the names Goodman, Lieber, Kurtzberg, and Holliway. A smaller sign indicates the areas of practice: Criminal Defense, Civil Litigation, Intellectual Property Law, Superhuman/Metahuman Law.
JENNIFER looks into the camera and, thinking for a moment, pulls out her cell phone.
JENNIFER
One second Louise, I need to make a quick call.
LOUISE walks ahead slightly to watch the TV in the reception area.
JENNIFER
(pretending to talk on phone)
Testing… testing… Okay, so, since this is the first episode, you get to sit through some exposition. Someone else already uses the letterboxes, and I haven't figured out how to work the voice-over yet, so I have to be discreet. My name is Jennifer Walters. I work for Goodman, Lieber, Kurtzberg, and Holliway. It was a normal law firm until a few years back when one of the partners, Holden Holliway, decided to get into a new field: Superhuman law. And, of course, being the first lawyer slash public superhero, they offered me a job. Next to me is Louise Mason, my secretary and occasional trainer. She fought crime as "the Blonde Phantom" thirty or forty years ago, before she settled down. No powers, just smarts and a right hook.
She joins LOUISE in front of the reception area. WILL, a receptionist, dutifully works behind the desk. A television behind him features a news channel called "4 Shadow News" with a story about "Werewolf in New York? 3 Days of Terror!"
LOUISE hands JENNIFER a small pile of letters from the reception desk. As they talk, JENNIFER skims them.
JENNIFER
Sorry about that. Yeah, so, this morning the guy keeps dodging and shouting "Ole" for ten minutes, until finally I grab his stupid red cloth and broke the stick over his head.
LOUISE
Muleta.
JENNIFER
What?
LOUISE calls up a picture of a matador on her phone holding a muleta.
LOUISE
That's what the stick with the red cloth is called. A muleta. I had a white-collar crook drop me in a pit with a bull back in the 80s.
LOUISE looks around to make sure no one is listening, aside from WILL.
LOUISE
I used my skirt and some loose metal railing to make one to keep the bull busy until I could get back up.
 JENNIFER
He had a pit with a bull? I thought pits were for alligators.
As she talks, LOUISE starts to smile and remember the old days. JENNIFER stops looking through letters and looks at her, wondering if one day she'll reflect like this.
LOUISE
(shrugging)
It was the 80s. He was a stock trader. I think he thought it was clever to use a bull. He might have been the one who overdosed during his monologue. There was a lot of cocaine going around back then. Honestly, in the 70s and 80s we mostly just had mobsters, serial killers, and American Psycho suits with experimental weapons. Those were the easiest. Half the time they'd run out of blow and lose interest before firing the laser or whatever they had.
They both laugh. WILL chuckles in the background.
JENNIFER
At least you didn't have to deal with the funny hats. So, then I had to stay green and jump all the way to the courthouse to make it on time. I barely got my shoes back on before they called the docket, and I didn't notice until my second client that I had pieces of the mural I broke in the fight in my hair.
(to WILL)
 Hey, Will. How are you?
WILL
Good afternoon Ms. Walters. I'm doing well. I feel I should let you know Mr. Holliway is in Ms. Book's office and has been through lunch.
JENNIFER disposes of most of the mail, keeping only a few letters in hand. She hands them over to LOUISE, who takes them without a thought.
JENNIFER
Any idea why?
WILL
The secretary pool seemed to think she wanted to branch over into metahuman defense again.
JENNIFER and LOUISE briefly exchange glances.
JENNIFER
That's a waste of time. Every hero I know couldn't stand five minutes with her.
LOUISE pats JENNIFER on the shoulder, bracing.
LOUISE
She didn't say hero, Green.
JENNIFER, realizing the implications, angrily heads past the desk into the interior of the building, offscreen.
WILL and LOUISE, rather than looking panicked, turn their attention to the news on tv about the werewolf sightings, speaking without much engagement.
WILL
 She's pissed.
LOUISE
Yep.
WILL
She going to break something?
LOUISE
If Holliway isn't still there, probably.
                                            WILL
Book's office soundproofed yet?
                                            LOUISE
Nope.
WILL turns around to look at the reception area.
WILL
(To reception area)
Ladies and gentlemen, thank you for waiting. In a few minutes, you might hear several loud sounds with some small tremors. It's nothing to worry about, it's just a horrible rage-monster…
(dropping his voice slightly)
… who loves to piss off our resident superhero.
(To Louise)
So, Louise, you and your husband still taking Krav Maga for seniors?
JENNIFER walks past the other offices and cubicles on the floor as she makes her way towards one of the window offices.
JENNIFER
(To Audience)
Mallory Book, the face that doesn't lose a case.
One of the people in the crowd looks at JENNIFER as she speaks. JENNIFER quickly pulls out her cell-phone again.
JENNIFER
(into phone, to audience)
Mallory is vicious, she's underhanded, she's an epic narcissist, and, worst of all, she's one of the best civil and criminal defense attorneys in the city. She had a case with a hitman who was charged with attempted murder. She argued that her client was too good of a killer to fail at murder, and got a jury to acquit. And yeah, no mind control powers, we've checked.
INT. OFFICE OF MALLORY BOOK – DAY
An ostentatious corner office. Awards and diplomas displayed prominently, regardless of the trivial nature of the award. Pictures of Mallory in various glamour poses adorn the walls.
Inside is MALLORY BOOK, a young, driven, egotistical, borderline megalomaniacal associate attorney who specializes in defending the people others wouldn't, provided they pay extra. She is everything people hate about lawyers. She is also extremely attractive and rarely conveys any emotion that isn't calculated.
Across from her is HOLDEN HOLLIWAY, an older Southern man, senior partner at the firm. Always looks a little war-weary, but tries to put on a relaxed front.
A quick knock comes from outside the door, before JENNIFER opens it without waiting for a response and comes in.
HOLDEN
Jennifer, good of you to join us. Was wondering when you'd be here.
JENNIFER moves inside and sits next to HOLDEN, facing MALLORY. Realizing that MALLORY's chair makes her slightly taller than JENNIFER, JENNIFER straightens her posture as much as possible as she speaks.
JENNIFER
Yes, Holden, I just heard you were discussing the metahuman division.
Seeing JENNIFER adjusting her posture, MALLORY smiles and straightens slightly in response. HOLDEN remains slouching, not paying much attention to the room.
HOLDEN
Why indeed, we were. Mallory has been giving a presentation for the last hour or so about trying to take on a few cases in the division herself, on a trial basis.
MALLORY
Dear Jen, you know that I've always had an interest in your clientele.
JENNIFER
Usually that's only when you hear that Tony Stark is picking up the tab.
MALLORY
The firm does plenty of pro-bono work. But someone has to keep the lights on. We can't all be running around in a leotard doing things out of the goodness of our hearts. We're a business.
JENNIFER starts to rise in anger, but HOLDEN cuts her off.
HOLDEN
If we could get back to the matter at hand. Jennifer, Mallory wants to take on a few superhuman clients of her own.
JENNIFER stays seated, but has a clenched fist.
JENNIFER
Oh, come on. She wants to represent supervillains. That's against the conditions we set out when we started the metahuman law division.
MALLORY, seeing that she's getting under JENNIFER's skin, starts to adopt a sanctimonious tone.
MALLORY
Jen, they aren't villains until they're convicted. Until then, they're innocent. And we're allowed to defend the innocent, aren't we? Everyone is entitled to a defense.
JENNIFER
(struggling to keep civil)
That's why there are Metahuman Public Defenders. I'm pretty sure we agreed not to represent anyone who used a death ray on television, regardless of prior convictions.
HOLDEN
(slight hint of insincerity)
Look, Jennifer, I'm not going to pretend this is the direction I thought we'd take the division.
(back to normal)
But, Mallory is right. Some of these supervillains might need a defense. Heck, some of them might even deserve it. Didn't we have a guy a while back that could make people kill using his voice?
JENNIFER
(realizing she's losing)
Yes. But…
MALLORY
Then who's to say that the guy using the death ray wasn't forced to do it against his will by a hypnotist? Or maybe was possessed by a worm that enters his brain? Or maybe he was actually that hot guy with the horns, Thor's brother, in disguise? Are we really doing our duty as attorneys if we just ignore them?
Knowing she's won, MALLORY reclines and puts her hands together in front of her.
HOLDEN
Jennifer, I'm sorry, but I think that it's a reasonable request. On a trial basis.
JENNIFER rises.
JENNIFER
Fine. But the minute someone tries to pay with stolen gold or something, I get an "I told you so."
MALLORY
We'll just make sure it's a cashier's check.
HOLDEN rises.
HOLDEN
Well, that's settled then. Jennifer, I had something to talk to you about. Let's use your office. Good day, Mallory.
INT. OFFICE OF JENNIFER WALTERS
The office contains a balance of her accomplishments as both a superhero and an attorney. She has both a gavel and a replica of Mjolnir on the wall. Photos of herself and the Hulk can be found, but none of her and Bruce Banner, despite other family photos present.
HOLDEN
(sitting down)
I got a call before lunch from a friend over at the Daily Bugle. His son's in a heap of trouble, and it sounds like it's right up your alley.
JENNIFER goes around her desk, pulls a notepad and a pen out, making notes as HOLDEN talks. She sits down.
JENNIFER
What kind of trouble?
HOLDEN
I don't rightly know. Jonah says that the boy was up in space, and found something.
JENNIFER
Wait, in space?
JENNIFER quickly writes "CUE THE FLASHBACK" on a note and circles it for the audience.
INT. SPACESHIP
JOHN JAMESON, young, handsome, astronaut, roughly the same age as JENNIFER, is accompanied by two other astronauts, ASTRONAUT #1 and ASTRONAUT #2. They're no longer in their spacesuits, just their flight gear.
JOHN is looking at a shelf of clear specimen containers in an unsealed storage compartment of the ship. Each contains objects one would never expect to find on the moon. In one is a huge ruby that catches JOHN's eye. As his reflection plays over it, his eyes start to glaze over slightly. His features soften as he stands transfixed for a second. He quickly regains his senses, shakes his head, and walks away, appearing to pretend nothing happened. After a beat, he proceeds to return with a large sign he places in a slot in front of the container. It reads "WARNING: POTENTIAL MAGIC OR ALIEN ARTIFACT."
JOHN
(Through communicator)
Commander. It's Jameson. I have a potential 0-8-4 issue –
A powerful shock goes through the ship. JOHN is thrown into the shelf. The specimen container and sign fall. The container shatters next to him, spinning the ruby out onto the floor. JOHN instinctively looks at it. Again, his eyes start to glaze over. He slowly gets up and picks up the ruby. He places it back inside a new container and replaces it on the shelf. He then grabs the sign, and puts it in front of another container on the shelf.
COMMANDER (o.s.)
(Through P.A. system)
Incident report?
ASTRONAUT #1 (o.s.)
(Through P.A. system)
We were grazed by a random beam of energy coming from the surface. Probably a meta-fight. No hull breach alerts, and the artificial gravity seems unaffected, but we're running checks now.
JOHN then proceeds to step back and press a button on the wall. A door closes, sealing the shelves.
COMMANDER (o.s.)
(Through communicator)
John, status on the 0-8-4?
JOHN
(Through communicator)
It's been marked inside containment unit 11. Recommend no eye contact. S.H.I.E.L.D. can get it when we land before I help unload the other samples. There was an unrelated container break. I'll clean it up and be up front to prepare for re-entry.
COMMANDER
(Through communicator)
Roger that. I'll send the alert.
JOHN stands before the sealed container, staring through it at the ruby hidden within.
INT.  SAME SPACESHIP
SUPERIMPOSE: "TWO DAYS LATER"
JOHN and ASTRONAUT #1, now in work clothes, enter with a dolly. JOHN presses a button on the wall panel and opens the shelves again. The container with the sign in front of it has been removed. The ruby remains on the shelf. JOHN and ASTRONAUT #1 begin placing the containers on the shelves. JOHN picks up the ruby's container and stares at it for a moment. Then he places it on the dolly. They finish loading the rest of the containers.
ASTRONAUT #1
Remember when astronauts didn't have to do the grunt work after getting back from space? Spend a lifetime training to be an astronaut hoping that you'll be allowed to go up at least one time. Then, when you get done with training, you find out there are space gods, aliens, and, suddenly, a rich tech billionaire in body armor changes everything about propulsion and now getting to orbit is basically a road trip. Then again, without that, they might have cut our funding.
JOHN
(Distracted)
Yeah, I hear you. Hey, I'll go ahead and log these in. You can take off.
ASTRONAUT #1
Thanks. Tell your dad I said "THWIP THWIP."
JOHN
  (still distracted)
Yeah, yeah, I'll let him know.
INT. NASA STORAGE FACILITY
JOHN pushes the dolly inside of the room, closes the door, and grabs the ruby's container. He opens it and pulls the ruby out. He wraps it in a towel and puts it in his pocket, leaving without unloading the dolly.
INT. JOHN JAMESON'S APARTMENT – NIGHT
Several days have passed. JOHN sits on his couch staring at the Ruby. The moon outside of the window is approaching full. There's a knock at the door.
JOHN
(Still entranced by the Ruby)
Sorry, I'm busy. Come back later.
Another knock on the door.
JOHN
I said go away.
A group of armed soldiers kick the door down and storm the apartment. JOHN barely moves as they surround him.
CAPTAIN
John Jameson, you are under arrest for violating the Covert Acquisitions Act.
(To other soldiers)
Get the artifact.
Two soldiers move towards JOHN, who proceeds to get up and, showing surprising amounts of strength, punches both of them off their feet. The other soldiers quickly swarm him, pin him to the ground, and pull the ruby from his hands. None of them notice that small tendrils of energy extend towards JOHN's hand as the ruby is taken away.
JOHN
Give it back. I need it!
CAPTAIN
Get him out of here.
JOHN is dragged out, screaming.
INT. OFFICE OF JENNIFER WALTERS
JENNIFER
So, they're charging handsome-
(quickly corrects herself)
– him with the theft of the stone?
HOLDEN
They're charging him with everything. There're laws that ain't even on the books that he broke. He's saying the rock hypnotized him, but they say they've been testing it and nobody else has been voodoo'd. They say he just stole it for the money.
JENNIFER
His dad owns half the media in New York. Try again.
HOLDEN
I agree, but they want something other than a magic rock if they can't figure out what makes the rock magic.
JENNIFER
So, are you going to be the primary attorney on this?
At this, HOLDEN shifts slightly uncomfortably, preparing to deflect.
HOLDEN
Can't. I have a conflict. It's personal, but I can't be involved beyond this. So, I need you to take this one.
JENNIFER
Sounds fun. Let's get started. Where's he being held?
INT. COUNSEL MEETING ROOM AT SHIELD BLACKSITE
JENNIFER is sitting at a table in the middle of the room, tablet and stylus in front of her. In addition to her usual outfit, she is wearing a visitor's badge identifying her as counsel, and two bands on either wrist. JOHN enters in prison attire. JENNIFER stands to greet him.
JENNIFER
Good afternoon, Mr. Jameson. My name is Jennifer Walters. I'm an attorney at Goodman, Lieber, Kurtzberg, and Holliway. Your father hired us to represent you.
JOHN
Colonel John Jameson. I thought the agents said I had to have a Public Defender.
They sit.
JENNIFER
That's what they assume. There aren't a lot of firms in metahuman law yet. We were part of the pilot program created after the HYDRA leak revealed all the constitutional violations SHIELD was behind.
JOHN
So, you're a superlawyer?
JENNIFER
Don't call me that. But, yes. Normal lawyers can't handle all that a metahuman case tends to entail, so they send in me.
JOHN
Well, I'm glad to have you. So, how much do you know about what happened?
JENNIFER
(slightly surprised)
Sorry, usually this is the part where I have to tell you my resume to show you I can do my job. I had the speech ready to go.
JOHN
You're here. You're from Holliway. You're my best shot at getting out of here, and the last few weeks in here haven't been the Ritz. So, what do you know?
JENNIFER
Okay, so, the flashback showed that you found a ruby in space, you stole it from NASA, and you were found with it in your hand a few days later.
JOHN
The flashback showed you?
JENNIFER
I mean, my boss told me. Sorry, it's a lawyer thing. I know you told your dad that it hypnotized you and forced you to take it, and that after all the tests they do, SHIELD says that it doesn't do that. Am I missing anything?
JOHN
(Slightly unfocused)
We've bonded.
JENNIFER
You and the ruby?
JOHN
It's not a ruby. There's something in it. It… it's old. It's old and it's beautiful. And primal. It wants to show me something. To make me something. And when I look into it, that's all I want. To see what it can show me. I want the monster inside me to come out and howl at the moon. I know this sounds crazy.
JENNIFER makes some notes to herself.
JENNIFER
No, that happens more often than you'd think. But, nowadays, people are into pretending to be possessed or mind-controlled to get out of jail.
JOHN
So, do you think I'm pretending?
JENNIFER
First rule: It doesn't matter what I think. It matters what I can show a judge or a jury. That said, you came back from the moon with a ruby, reported another artifact as magic when you could just have said nothing, took it out of the building, then apparently didn't leave your apartment until you were pulled out of it. I haven't gotten the discovery yet, but I've been informed they've used the last month to check your computer and phone to see if you contacted anyone during that window. If you were really in a trance, I assume you didn't?
JOHN
I don't really remember everything clearly, but no, I don't think so. I just wanted to listen to it.
JENNIFER
So, first is getting you out of here. I'll go ahead and move for bond reduction.
JOHN
I don't have a bond, I thought.
JENNIFER
That's typical in a case like this, where you might be in possession of powers you don't understand that create a public risk. But, you've shown no signs of any enhanced abilities, and with the ruby currently in custody, you won't be able to get it again.
JOHN
(showing slight signs of influence)
In custody where?
JENNIFER looks at him, studying him.
JENNIFER
I don't think you need to know that.
JOHN
But I… Yeah, yeah, okay. So, what's going to happen from here?
JENNIFER puts her pen down.
JENNIFER
Well, it doesn't usually work like it does on TV. In normal cases, we'd be in for months or years of investigations, motions, hearings, depositions, continuances, and, maybe a 1% chance you go to trial. However, you're in the metahuman division. Everything goes faster, more trials. They should have the results of your computer and phone to me by Friday, so I have your bond hearing set for Wednesday. We've got judge Chalmers. He's pretty good towards regular humans. As long as we can get him to set something, you won't have to wait here until I can either get this thrown out or we get you in front of a jury.
JOHN
So… you mean this court pretty much works the way it does on T.V.
JENNIFER looks sideways at the camera, giving a knowing look.
JOHN
Anything I can do to help?
JENNIFER
Just don't do anything stupid. Also, I'm going to need some of your hair.
JOHN
(surprised, confused, and slightly flattered)
Do you always come on this strong?
JENNIFER
It's for my consultants. They usually like some DNA and something that belongs to you. The hair is both. Saves time.
JENNIFER brings out a small set of tweezers. JOHN leans forward and allows her to pluck some of his hair. She puts the hair in a container and seals it.
JOHN
Alright, well, thank you. I appreciate all of this.
JENNIFER
It's what I do.
(stands to leave)
And, by the way, I would never flirt with a client, just to be clear.
JENNIFER crosses over to the door and stops before looking back.
(in slightly flirty tone)
And, if I did, you would know that I always come on strong.
INT. SAME BUILDING AS GOODMAN, LIEBER, KURTZBERG, AND HOLLIWAY – EVENING
On a different floor of the building, JENNIFER approaches a door which says "Linnea and Cho Consulting." Walking past the entry area, she comes upon a door that says "LAB 1 – AMADEUS CHO – SAFETY ADVISED." Someone has placed a small hook in the door and from it a sign hangs that says "Come on in – We're all mad here!"
JENNIFER
(To herself more than anyone else)
Guys, this is your office. Look professional.
She flips the sign over on the hook. The other side reads: "We know, Jen. Also, tell us our prognostication division is going well." JENNIFER then proceeds to go inside, leaving the sign on the hook. The room is a high-tech laboratory, with areas dedicated to chemistry, storage, computing, and robotics.
AMADEUS CHO, a young (late teens-early 20s) Korean American scientist with very gelled hair. He is very excitable, and tends to have some difficulty focusing on one task at a time due to his brain processing several times more information per second than a regular person. He's tinkering with a new device as JENNIFER comes into the room.
AMADEUS
Hey Jen, just a second.
JENNIFER
(to audience)
This is Amadeus Cho. He works in my building with his partner, Linnea the Elfqueen. They basically act as consultants for weirdness. He does the super science, she does the magic. Neither one does social interaction well.
AMADEUS finishes what he's doing for the moment and turns to greet JENNIFER.
JENNIFER
The sign was cute.
AMADEUS
Glad you liked it. I'm trying to see if I can figure out a way to match Linnea on seeing the future. It's limited so far, but at least it's something.
(Pulls out a recording device)
Prognostication test 88, 10 out of 10.
(To Jen)
Can I have the sign?
JENNIFER checks herself for a second before realizing where it is.
JENNIFER
Left it on the door.
AMADEUS
(to recording device)
Make that 9 out of 10.
JENNIFER
Better luck next time, hair gel.
AMADEUS
Hey, I care about my appearance. Trying a new formula. I'm trying to get it to go blond and spiky when I get angry.
JENNIFER looks around the room at the many strange devices. AMADEUS straightens up as they talk.
JENNIFER
Wasn't my show, sorry.
AMADEUS
But you still get the reference, so we're cool.
JENNIFER turns towards AMADEUS and focuses.
JENNIFER
So, do you and Lin have any thoughts on what we spoke about?
AMADEUS points to a large array of devices on his wall.
AMADEUS
Well, I have a range of scanners set up that can probably detect the energy if it comes from my side of the spectrum, but Linnea thinks that it's more likely something out of the mystic end. She's got her rituals set up to test it if you have the sample. Since time's a factor, I say give it to her first.
JENNIFER
She in her room?
AMADEUS
Yeah, go ahead. I'll be right behind you.
JENNIFER goes through the room to the next door. The sign reads "LAB 2 – LINNEA OF THE HIDDEN GLADE – EXTREME CAUTION ADVISED." JENNIFER goes through to see a dark room adorned with curtains and antiques. The floor and ceiling are adorned with sigils.
Inside is LINNEA, an Elven queen, levitating in meditation. She is wearing an elaborate gown and a tiara, as well as many jewels and charms. She comes out of her meditation and lowers to the ground, before acknowledging JENNIFER.  LINNEA rises to her feet.
LINNEA
Greetings, Jennifer Walters. I bid you welcome.
JENNIFER
(Formally)
I accept your welcome and give thanks for your hospitality, Linnea, Queen of the Hidden Glade, first among the elves of the New World, Mystic Eye of the Elders of the World that Never Was.
LINNEA
Be welcome in my house.
They both relax, but JENNIFER more so than LINNEA. JENNIFER takes a seat on a cushion on the floor.
JENNIFER
So, Cho told me that you have an idea about my case?
LINNEA walks to a shelf filled with books. A few levitate out and open themselves in front of her. As she speaks, images from the books telling the story move in front of the camera.
LINNEA
I have consulted the tomes. I believe I have uncovered a reference to that which you describe. It is the story of a god from one of the other realms, dying in a dying world, who tore a hole from his universe to our own, far before mankind, and contained his essence within a gem, hoping a successor would find it, and perhaps repair his world.
The audience is shown a picture of an elderly MAN-WOLF lying dead upon the moon, however, JENNIFER does not see it.
JENNIFER
Wait, so a god from another universe left it on the moon a million years ago, when no one would have been here. Who wrote that?
One particular old book stays open in front of LINNEA as the others orbit her.
LINNEA
I did not say no one was around, just that no human was present. And it comes from the ravings of Orthrax the Insane, the fifth seer of the Older World. He was not known to be wrong on such matters.
JENNIFER
Then why was he the insane?
LINNEA
Because he often gave his prophecies while standing on his head, naked, and slathered in blocahelf. It is roughly equivalent to Limburger cheese. Oddly, on his deathbed he revealed that he only did it because he had a vision of himself being remembered for doing so, and that he hated blocahelf.
LINNEA pauses for a second and the books around her stop moving.
LINNEA
It is even possible that this conversation is what he saw.
JENNIFER starts to say something, then thinks for a moment and changes her mind.
JENNIFER
Okay, well, we'll leave all of that out of the motion. So, why didn't he change into a god or something?
LINNEA
I would imagine that it requires certain conditions. Given the location, they might be lunar.
 JENNIFER
Okay, so how does any of this help us?
LINNEA dismisses the books back to their shelves and returns to the center of the room. As she speaks, she draws a chain in energy in the air, before breaking it. JENNIFER watches this, amused.
LINNEA
If it is, in fact, the gemstone left by the Stargod, then it will have chosen to mark this man as its host, and will seek no other. However, if I get some other object with the same energy attenuation, I will be able to break the chain connecting the stone and its host. At which time, the stone will start seeking other hosts, and the tests run upon it will show that it bent the man to its will.
JENNIFER
And you have something else from this dead alternate universe?
LINNEA
No, but there are several other relics of it located around the world. The god and his servants visited many times. Some remains will still be intact.
JENNIFER
Okay, so how do we find the other relics?
LINNEA forms a small Earth image in front of her, with lines of energy traversing it, like wind patterns.
LINNEA
I will use the energy from the subject to locate one. If the man's story is true, and if my inclination is correct, then we can find another sample to compare with the gemstone. I trust you brought something of his.
JENNIFER pulls out the container of hair.
JENNIFER
Yeah, wasn't awkward at all.
Jennifer hands over the container. At the same time, AMADEUS enters and joins them. He is carrying a set of recording devices, both audio-visual and electromagnetic.
AMADEUS
Hey, give me a second to set up.
JENNIFER
This is new. What's with all the equipment?
AMADEUS
Gathering data.
AMADEUS finishes setting up his equipment.
AMADEUS
(into recording device)
Project Clarke: Test 89 commencing. Using wide-spectrum analysis enhanced by new Stark-tech sensors.
JENNIFER looks at each of the devices, even stepping closer to one, whose camera then moves to focus on her. She steps away.
JENNIFER
Aren't you worried about getting peanut butter in her chocolate? Or her chocolate in your peanut butter?
AMADEUS
We prefer to think of it as mutually expanding our fields of understanding.
LINNEA nods in assent.
LINNEA
Indeed. I find it interesting what mortals can accomplish with their limited energies. It sometimes begets new creations of my own.
JENNIFER looks at her slightly inquisitively.
LINNEA
Additionally, thanks to human technology there are videos of Red Pandas playing in the snow. They are adorable. Now, if we may proceed.
LINNEA sits on the ground in a meditative state with the container of hair in her hands. As she speaks, her voice begins to take on an otherworldly quality. She begins to glow and levitate. AMADEUS activates all of his machines and starts to make notes on a tablet as he watches. JENNIFER moves against a wall.
LINNEA
I beseech the Old Ones, lend me your all-seeing eye. Find that which I seek and make it known to me. Blackwood, Bierce, Wandrei, the three who would be found, I call upon you. Show me the closest relic of the lost realm. Wait! I see it.
INT. RORY'S RELICS
There is a smaller ruby similar to the one found by JOHN attached to a setting and a necklace. It is shown on a coat hook in an office room.
LINNEA (V.O.)
It is another gemstone. Also a ruby. Someone has set it in a necklace. It is inside.
EXT. RORY'S RELICS
The building is small pawn shop in a run-down neighborhood. The sign on the windows says that it is "RORY'S RELICS – ANTIQUE AND PAWN"
LINNEA (V.O.)
It is close. It is… in a shop called Rory's Relics.
INT. LINNEA'S ROOM
AMADEUS
Googled. It's in Queens.
JENNIFER
(checks her phone)
Okay, it's 5 now, I've got dinner plans at 6, but I can swing by after.
(to LINNEA)
I bid good tidings and a warm hearth to you, Queen Linnea.
LINNEA
May your travels bring you safely back, Jennifer Walters.
AMADEUS begins collecting his devices.
JENNIFER
(to AMADEUS)
See you later, hair gel. E-mail me about the Braddock case when you get a chance.
JENNIFER starts to head for the door.
AMADEUS
Will do, Jen. Tell Louise she'll get the bill next week. Oh, and tell her that I have those bulletproof fishnets she wanted.
JENNIFER stops and turns to AMADEUS
JENNIFER
Bulletproof fishnets?
AMADEUS
I didn't ask why, and I'm happier that way. Now get going.
EXT. RORY'S RELICS – DUSK
JENNIFER walks towards the entrance. The store appears abandoned. She looks it over for a few moments before trying the door. It opens.
INT. RORY'S RELICS
The store is in a state of disarray, as if something has run wild inside of it. Most of the lights are broken. No one appears to be inside.
JENNIFER
Hello. Is someone here aside from the guy that wrecked this place who I'm probably going to have to knock unconscious?
JENNIFER makes her way through the store cautiously, looking through the antiques for the second stone within the necklace. Eventually, she sees light coming under the door to the office/storage room in the back of the store. JENNIFER approaches it and knocks.
 JENNIFER
Hello? Anyone alive in there?
RICHARD RORY, a middle-aged man who resembles a 70s Disc-Jockey opens the door.
RICHARD
Sorry, we're closed.
JENNIFER
Your sign says open until 10.
RICHARD
Sorry, must have slipped my mind. We had a bit of an accident earlier. We've closed. Please leave.
JENNIFER
Look, I'm here to find something specific. It'll just be a second. It's a ruby necklace.
RICHARD
I don't have anything like that. I'm sorry. Please leave.
RICHARD tries to close the door, but JENNIFER holds it open.
JENNIFER
See, here's the problem: I think it's something related to another dangerous object. And I've seen accidents. This wasn't one of them. So, I'm going to take a guess that not only do you have what I'm looking for, but that it's probably also a little dangerous. How am I doing so far?
RICHARD quickly forces the door closed and locks it. JENNIFER pulls out her cellphone and quickly calls LINNEA.
INTERCUT PHONE CONVERSATION:
LINNEA is on a terrace outside of her lavish apartment overlooking Central Park West. The moon starts to rise as she is talking. JENNIFER is looking around the store looking for clues.
LINNEA
Greetings, Jennifer Walters.
JENNIFER
Hello Linnea. I apologize for having to skip the ceremony, but it's an emergency. I have a guy who probably has the other ruby and he's hiding behind a door. Is the other ruby dangerous?
LINNEA
No apology needed, Jennifer. I would not have thought the other would be dangerous, but, I suppose that it is possible that the proximity of the main gem might have "activated" the latent power left by the Stargod within some of his other relics.
JENNIFER
Uh-huh. And what would that mean?
LINNEA
I cannot be certain. The main gem is trying to give its host the power of the Stargod. It is conceivable that the other gem might be doing the same on a smaller scale.
JENNIFER
So, it might turn this guy into a demi-god?
LINNEA
I would advise you to get it away from him before you find out. I imagine the door will not prove a problem in your other form.
JENNIFER approaches the door again. Sounds are faintly coming from the other side.
JENNIFER
Yeah, but I don't want to break into someone's private space unless it's absolutely urgent.
END INTERCUT:
Suddenly, a large, furry, clawed arm punches through the door. A loud howl is heard through the door.
 JENNIFER
Okay, we've hit urgent.
The door is flung across the room on its hinges. JENNIFER only barely manages to duck under it. Out steps the MAN-WOLF, a white werewolf wearing a tunic and a necklace with the smaller ruby.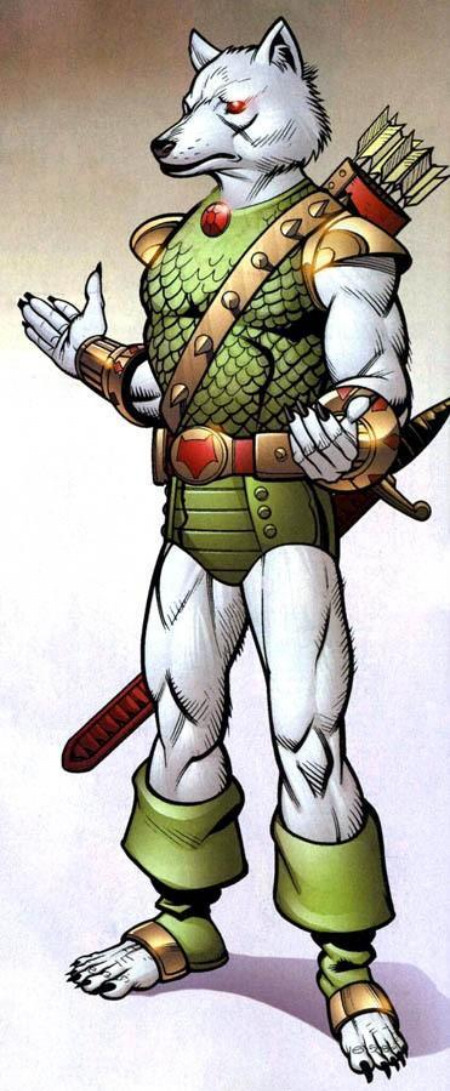 JENNIFER
Linnea, what does the Stargod look like?
LINNEA
In your parlance, I believe you would call him a Man-wolf.
JENNIFER
Man-wolf? That's not what we-
The MAN-WOLF charges at JENNIFER.
 JENNIFER
Never mind. Gotta go.
JENNIFER dodges out of the way, puts her phone down, and takes her jacket off. MAN-WOLF swipes at her and manages to tear her shirt into ribbons.
JENNIFER
Oh, you better hope that Jameson is going to pay for that.
She moves behind the counter to put some distance between them.
JENNIFER
Let's get this party started.
JENNIFER transforms into SHE-HULK, causing her shirt to rip. She tears her skirt off. MAN-WOLF lunges at her, but she catches his jaws in her hands and forces him backwards. Slightly confused, MAN-WOLF shakes it off and snarls at her. MAN-WOLF grabs a nearby vase and throws it at SHE-HULK. SHE-HULK catches it in mid-air, then throws it back at MAN-WOLF, who dodges, only for SHE-HULK to close the distance and begin grappling with him. MAN-WOLF wrenches out of her grasp and shoulder tackles her into a wall, breaking a large table. It then proceeds to bite into her shoulder, causing SHE-HULK to shout in pain. She punches it in the eye. It loosens its jaws. SHE-HULK rolls away and grabs one of the table legs.
SHE-HULK
Alright, Fido, see the stick? Fetch!
SHE-HULK smashes the table leg into MAN-WOLF's face, knocking it to the ground.
SHE-HULK
You made me take the easy joke. You shouldn't have done that.
SHE-HULK flips MAN-WOLF onto his back and pins his arms down with her knees. She grabs onto the necklace, breaking the chain and pulling away the ruby. MAN-WOLF starts to convulse and seize before transforming back into RICHARD RORY.
RICHARD
No! Give me back my power! I need it!
SHE-HULK
Yeah, no precious for you, Andy Serkis.
SHE-HULK flicks RICHARD in the forehead, knocking him unconscious.
SHE-HULK
(to audience)
I usually quip better, I swear. But he was giving me nothing. Next time, maybe we'll get Bullseye.
EXT. LAW OFFICE OF GOODMAN, LIEBER, KURTZBERG, AND HOLLIWAY – DAY
Establishing shot to show the passage of time.
INT. LAW OFFICE OF GOODMAN, LIEBER, KURTZBERG, AND HOLLIWAY – DAY
JENNIFER is standing next to LOUISE at her desk. JOHN JAMESON walks up.
JENNIFER
Colonel Jameson. Good to see you out and about.
JOHN
I have you to thank for that. And it's John, please, Mrs. Walters.
They shake hands.
JENNIFER
It's Ms. Walters. And it's actually Jen.
(Remembering that Louise is there)
And this is my secretary Louise Mason.
LOUISE
Pleasure to meet you Colonel.
They shake hands. He seems surprised at how firm hers is.
JENNIFER
Well, between Rory agreeing to testify about his own ruby, and the whole "turning into a giant Man-wolf" thing, the prosecutor had to agree to let you out on your own recognizance. I should have the whole thing dropped within the month. And, in the meantime, I have a friend that can completely break the connection between you and the ruby.
JOHN
Thank you. NASA even agreed to let me come back after it's dropped, although I don't know that they'll let me back on the moon for a while.
JENNIFER
Well, there's only so much I can do. If you want me to make a call while you're still a client, now's the time to ask.
JOHN laughs. LOUISE, realizing that JENNIFER is being slightly flirty, starts to watch their interaction eagerly.
JOHN
I think you've done enough. So… next month I'm no longer a client?
JENNIFER
Yes, but your privilege will still remain, if that's what you're worried about.
JOHN
I was actually going to ask if you'd like to go to dinner.
LOUISE smiles as JENNIFER is happily surprised.
JENNIFER
Oh. Well, I'll have to double check the ethics rules, but I don't think that'll be a problem.
JOHN
So, I'll wait a month and call you?
LOUISE
Just call me, and I'll make sure it's on her calendar, honey.
JENNIFER turns to glare at her for a moment.
JOHN
Thank you, ma'am. Will do.
JENNIFER
In the meantime, just don't do anything stupid. I've still got to finish getting you off.
(realizes how that sounds)
I mean, finish getting your charges dropped.
JOHN
Wouldn't dream of it. Besides, someone told me I wouldn't like you when you're angry.
JOHN leaves. The phone rings and LOUISE picks it up, ignoring JENNIFER.
JENNIFER
(to Audience)
Why is it the cute ones always steal your lines?
(Pause)
Wait, no, don't go out on that-
FADE OUT.
JENNIFER (O.S.)
Dammit.
ROLL CREDITS.