I don't know what to say except that somehow this show is actually pretty good. 
SUMMARY
Animal rescuer Sam-I-Am (Adam DeVine) steals a priceless Chickeraffe (half-chicken, half-giraffe, all Seuss). However, while at a diner, his bag gets mixed up with failed inventor Guy-Am-I (Michael "Yes, that Michael Douglas" Douglas). From there, the two get mixed up in wacky adventures trying to return the Chickeraffe while pursued by BADGUY agents McWinkle (Jeffrey Wright) and Gluntz (Jillian Bell). Along the way there's a billionaire with fake hair (Eddie Izzard), an overprotective mom, Michellee (Diane "Yes, the one from Annie Hall" Keaton) and her wild daughter, E.B. (Ilana Glazer), a Goat (John Turturro), a Fox (Tracy Morgan), and a Mouse (Daveed Diggs), all under the Narrator's (Keegan-Michael Key) watchful gaze.
END SUMMARY
There's a show of Green Eggs and Ham. Let me write that again: There is a show, a television show featuring 13 half-hour episodes, based on a book that famously only has 50 words in it. In the most recent season of BoJack Horseman there's a gag about a TV show being made based on a "Happy Birthday, Love Dad" greeting card and apparently it's well received. That was supposed to be a commentary on the fact that we've adapted all the books and Hollywood has had to move on to cards. This show is apparently presented completely unironically on the same streaming service and… well, it's impressively good. 
Don't get me wrong, this isn't going to be heralded as a revolution in animation, but I genuinely enjoyed watching it. The main characters have a surprising amount of depth, the world that it takes place in is probably the most Seuss-ian of any that's been put on screen (and yes, I'm including the animated How the Grinch Stole Christmas), and the show actually ties into the original story of Green Eggs and Ham. Each of the episodes is focused on one of the things that Sam-I-Am tries to pitch in the book ("Fox," "Train," "Box," "Rain," etc.) and in each one of them he pitches eating Green Eggs and Ham to Guy-Am-I based on that particular thing, just like in the book. That's actually an example of what this show nails: It manages to be true to the spirit of the original book while also expanding and explaining it. 
The theme of the original story of Green Eggs and Ham was that you should not be afraid to try new things, however, the persistence with which Sam-I-Am tried to pitch the foodstuffs to the character now called Guy-Am-I led to the story being accused of telling kids never to take no for an answer. Naturally, not obeying someone's wishes about not wanting to do something is not a great lesson. The show manages to subtly change this. Rather than not accepting Guy-Am-I's wishes, each time Sam accepts the rejection, then brings up the eggs in a different context in the next episode, but always allowing Guy an out. It makes the message clear that you can respect someone's wishes and still try to convince them to step out of their comfort zone once in a while. It's a tough balance, but I think they pulled it off.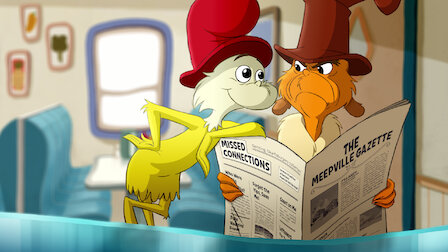 The show's writing is unbelievably creative, somehow managing to have the slapstick and inane feel of Dr. Seuss while also being clever and, at times, genuinely touching. There are some very sad and pensive moments in this show, something that you would never expect from a show involving green eggs and ham. In fact, the reveal of exactly what the food represents is an unbelievably touching moment. Still, the humor, particularly the commentary by Key as the Narrator, is pretty funny and works on a similar multi-generational level to things like The Muppet Show, encouraging parents to watch it with their kids. 
Honestly, though, this show almost single-handedly restores my faith in human creativity, because even if we are, in fact, reduced to the point of claiming to be inspired by greeting cards in order to get a show greenlit, someone can still add and adapt it enough to make it work as a solid narrative. I recommend this to anyone with kids, and anyone who is a kid at heart.
If you want to check out some more by the Joker on the Sofa, check out the 100 Greatest TV Episodes of All Time, Collection of TV Episodes, Collection of Movie Reviews, or the Joker on the Sofa Reviews.
If you enjoy these, please, like, share, tell your friends, like the Facebook page (https://www.facebook.com/JokerOnTheSofa/), follow on Twitter @JokerOnTheSofa, and just generally give me a little bump. I'm not getting paid, but I like to get feedback.