Futurama finally drops the pretense and just brings back Star Trek… with Welshie.
SUMMARY
Fry (Billy West) learns that Star Trek was banned in the future because it had previously become a religion that had caused a series of wars. Remembering that he met him in the pilot, Fry goes to see Leonard Nimoy's head at the Head Museum. Nimoy eventually admits to missing being Spock and missing all of his co-stars, so Fry, Leela (Katey Sagal), Bender (John DiMaggio), and Nimoy head into space to find the rest of the Star Trek cast. The crew heads towards Omega 3, the planet where the Star Trek tapes were disposed of, only to crash on the planet. 
The crew emerges to find a ton of sets from the show, as well as the cast, having been rejuvenated and given new bodies. It's revealed that the planet is ruled by an alien energy being named Melllvar (Maurice LaMarche). He murders Welshie (David Herman), Scotty's replacement, to show the crew that he is serious. With the cast complete (minus James Doohan, the guy who played Scotty), Melllvar announces he's hosting the biggest Star Trek convention of all time.  Melllvar is apparently the second biggest Star Trek fan of all time, next to Fry, something that infuriates him. Ultimately, he tries to get the cast to enact his fan script, distracting him.
The Planet Express crew leave the planet, then return to rescue the cast, only for them to fail and Melllvar to question if the Planet Express crew, as actual space heroes, is more worthy of his fandom than the cast. He orders them to fight to the death, but that falls apart quickly when the crews agree to work together after Melllvar is called to dinner by his mother. However, in order to escape, the cast has to jettison their bodies and become heads in jars again. Melllvar pursues them and they end up being captured by Zapp Brannigan's (West) ship. After a hearing over the Crew's possession of the banned Star Trek tapes (and cast), the chase continues until Fry convinces him that basing his life off of a show is not worth it. 
END SUMMARY
So, ever since Leonard Nimoy appeared in the pilot, everyone probably felt like this episode was inevitable. Futurama was definitely a product of Star Trek, has made a ton of references to the series, and basically never shied away from talking about it until this episode, in which it spontaneously is declared banned in the future. The idea that Star Trek fandom becomes so insanely dedicated that infighting leads to entire wars is… well, actually pretty accurate. I mean, have you seen how much people fight over what the best series is? There are people who would sooner get their eyes ripped out than admit that Picard was a better captain than Kirk and people who would rip the eyes out to get someone to say that. This is after the franchise has only been around for 50 years. Give it time, this episode might become more true, which is sad for a franchise founded on the idea of a Utopian future for humanity.
I love how much work this episode put into making as many references and jokes to the series as they could. The writer of this episode, David A. Goodman, actually got a real job writing for a Star Trek show because of it. In a bizarre twist that I keep bringing up, Matt Groening, the show's creator, couldn't really contribute to this episode, because he had never seen Star Trek. I find it hilarious that someone who created a sci-fi show wouldn't have seen something so central to the genre. It's like writing a fantasy show and never having read or seen Lord of the Rings. 
The only person who refused to appear in this episode from the original Star Trek cast is James Doohan, the original Scotty, which is why he's replaced with a surrogate named Welshy. Because of this, the original title of the episode was "We Got Everyone But Scotty." DeForest Kelley, the original Bones McCoy, appears in the episode but doesn't speak, due to him being dead for several years. Weirdly, we haven't gotten a firm explanation why Scotty refused to appear in the episode, but it's been made clear that it was a very firm rejection. They even joke in the commentary that it was a "no way" as opposed to just a "no." 
Overall, this was a solid episode that paid tribute to another great show. 
FAVORITE JOKE
Yeah, there's so many this is going to have to be a countdown:
3) "He's Dead, Jim"
When all of the Star Trek fans are being killed off, it's revealed that they were killed in the manner most typical of virgins: Thrown into a volcano. In the grand tradition of Star Trek, every time someone is killed, one of the people says "He's dead, Jim," the catchphrase of Bones McCoy from the original series.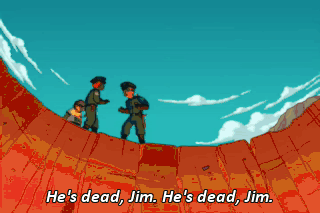 2) Balok's Puppet
At the end of some of the closing credits of the original Star Trek show, they would show an image of a puppet used by the character Balok (Clint Howard) in the episode "The Corbomite Maneuver." It was a fairly iconic image for a while because of this. In this episode, there is a picture of Lt. Kif Kroker done in the same style as that image during the closing credits.
1) George and Walter Share
So, during filming of the second season of Star Trek, Geoge Takei had conflicts that kept him from appearing in about half of the episodes. Because of this, they brought in Walter Koenig to play Pavel Chekov and gave him most of the stuff that Sulu would have done in the outlined episodes. Since budget was pretty small on Star Trek, Takei and Koenig ended up having to share a dressing room and, when they were in an episode together, would sometimes have to share scripts until the final was ready. If you're asking why someone couldn't just copy another script, that's the same question this episode forces you to ask when Melllvar, an all-powerful being, can't materialize another fan script. 
See you next week, meatbags.
NEXT – Episode 66: The Sting
If you want to check out some more by the Joker on the Sofa, check out the 100 Greatest TV Episodes of All Time, Collection of TV Episodes, Collection of Movie Reviews, or the Joker on the Sofa Reviews.
If you enjoy these, please, like, share, tell your friends, like the Facebook page (https://www.facebook.com/JokerOnTheSofa/), follow on Twitter @JokerOnTheSofa, and just generally give me a little bump. I'm not getting paid, but I like to get feedback.