BoJack Horseman returns for the first part of its final season and holy hell do I want to see the rest of it.
SUMMARY
There's no summary. Just go watch the damned thing. I waited a month to post this, but I still want you all to watch it.
The characters are BoJack (Will Arnett), Mister Peanutbutter (Paul F. Tompkins), Princess Carolyn (Amy Sedaris), Diane Nguyen (Alison Brie), and Todd Chavez (Aaron Paul). The creator is Raphael Bob-Waksberg. There are too many guest stars to name.
END SUMMARY
BoJack Horseman is one of the best shows I've ever seen and yet I fully admit that I didn't enjoy most of the first season. The thing about the show is that it started out defying the usual tropes of sitcoms by having nothing in the show ever really go away. Things didn't reset in this world the way they do, for the most part, in animated sitcoms like The Simpsons or Family Guy. Typically the only things that are permanent in sitcoms are when someone dies or gets married or marries a ghost. Hell, some shows write out major characters (like Chuck Cunningham) and then later pretend they don't exist.
Not
BoJack

.
When stuff happens here, it lingers. They sometimes use the audience's familiarity with sitcom tropes about resets and lost plot points to make us think that something that happened has been dropped, only for it to be revealed that it wasn't. Instead, BoJack's fame and wealth and sometimes pure dumb luck keep him from suffering the consequences at the time. We've seen BoJack do wonderful things (like returning a lost seahorse child) and terrible things (like leading his friend Sarah Lynn (Kristen Schaal) to start using drugs after she got clean, resulting in her fatal overdose), and sometimes it felt like those things were forgotten. However, this season makes it clear that they weren't. Moreover, these things are being remembered just as BoJack starts to remember them, because, as he puts it "I remember everything. I'm sober now."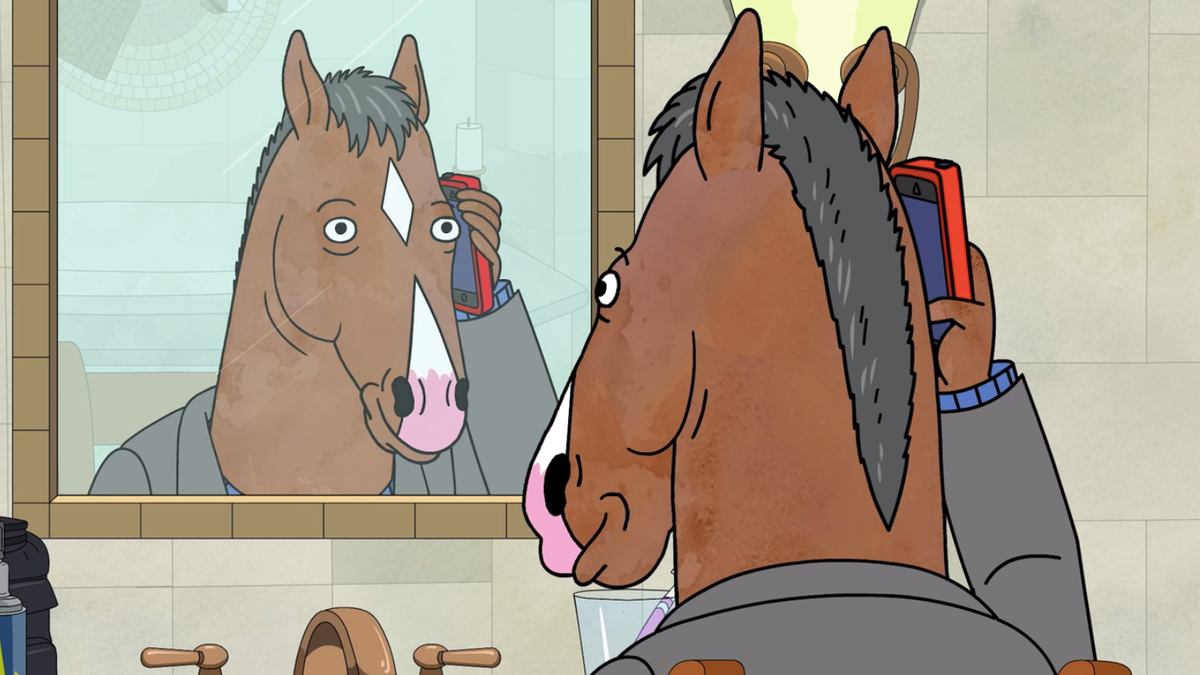 That's what this show appears to be setting up for: The great sobering of BoJack Horseman the show. A big theme of last season was addressing the issue of whether or not people should be looking up to BoJack (or his character, Philbert) or using his depression and self-abuse as an excuse to feel better about their own personal failures. While ultimately BoJack acknowledged that he needed to be better and going to rehab, there's still a question of accountability. At the end of last season Diane gave BoJack a talk about how there are no good guys or bad guys, there's just guys and that believing that you're bad is just an excuse to be bad. He counters that he's asking to be held accountable and she says that "…no one is going to 'hold you accountable.' You need to take responsibility for yourself." However, now that BoJack is ready to do just that, the world seems to be setting up to take him to task. It's going to be interesting to see how it plays out, but it really seems like they're preparing to take down more than just their lead. They're going to try and take down all the people that view him as something to emulate or something to use to excuse their own shitty behavior. I could be wrong, but as that would be the most amazing way to end a show this self-aware, I'm hoping that I'm not.
They also seem to be building a parallel plot that I can't quite figure out how it's going to tie-in to the central narrative. A company called Whitewhale, run by a White Whale named Whitewhale (Stephen Root), has begun acquiring almost all of the companies in America and has begun murdering anyone that gets in their way (because Congress made murder legal for billionaires… despite that being a state crime and not a Federal crime in most cases). It could just be a set-up for a plot with Diane trying to take them down, but I am willing to bet heavily that there's a joke pending involving "Ahab" and "Rehab" that is dependant on BoJack's newfound taking of responsibility for himself being what finally forces the public to demand the same of all our celebrities.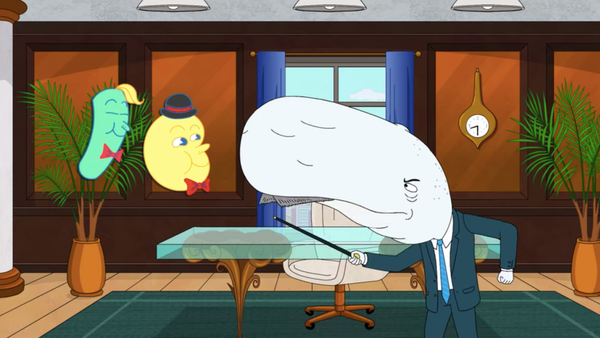 The end of the show kind of always had to be BoJack being destroyed. I mean, the opening sequence changes every season, but it always concludes with BoJack drowning and looking up through the pool as everyone looks down at him. Does that mean that he's going to die at the end? Well, possibly. It wouldn't shock me if the first shot of the last half of the last season is a tribute to Sunset Boulevard with BoJack lying in a pool narrating how he got to this point, only for it to be revealed that he's now broke and cleaning pools for a living or something. I mean, with all this set-up, BoJack can't be allowed to end without some form of consequences and BoJack has grown into the kind of person who will accept them. 
Either way, the show was amazing, and I'm so sad it's ending, but also so glad that it existed. 
If you want to check out some more by the Joker on the Sofa, check out the 100 Greatest TV Episodes of All Time, Collection of TV Episodes, Collection of Movie Reviews, or the Joker on the Sofa Reviews.
If you enjoy these, please, like, share, tell your friends, like the Facebook page (https://www.facebook.com/JokerOnTheSofa/), follow on Twitter @JokerOnTheSofa, and just generally give me a little bump. I'm not getting paid, but I like to get feedback.