Bender gets a sex change to cheat at the Olympics and then to date a celebrity.
SUMMARY 
The crew goes to attend the 3004 Olympic games where Hermes (Phil LaMarr) has been pulled out of retirement to compete in the Limbo. The rest of the Jamaican team has been detained at the airport for being stereotypes. Since Hermes is out of shape, the Professor (Billy West), gives him a special bodysuit designed to make him super limbo-y. He hopes to finally defeat his bitter rival Barbados Slim (John DiMaggio), the only man to win Gold Medals at both Limbo and Sex. He's also Hermes's wife LaBarbara's (Dawnn Lewis) first husband. Unfortunately, the suit bursts from Hermes's gut right before the finish line, costing Hermes the race. 
Bender (DiMaggio) insists that he could win a medal at the bending competition, only to realize that he has no chance when he sees the other competitors. He then sees that the female bending robots have much easier competition, so he decides to disguise himself as a fembot. He wins the gold, but finds out that, much like the real Olympics, there is gender testing. He has the Professor make him into a fembot (something that even the professor admits is ill-defined), collects her medals as "Coilette from Robonia," and remains a woman for the celebrity. While on a talk show, she meets Calculon (Maurice LaMarche), who falls for her. She dates him for the gifts and the celebrity, which offends Leela (Katey Sagal) and Amy (Lauren Tom). Eventually, Calculon asks her to marry him, which she accepts. 
Bender/Coilette just wants to scam Calculon for his money, but eventually realizes that Calculon's feelings are real. She can't just leave him, so she decides to come up with a thing that he can believe: A Soap Opera death. So, at the wedding, she has the crew act out a contrived death which Calculon accepts and uses to try and win an Emmy. At the end of the episode, Bender is made male again, but he still pines for Calculon a little. 
END SUMMARY
This episode both doesn't age well and is also strangely prescient. The idea of someone undergoing a sex change solely for the point of winning contests is something that seems to have come up more in recent years, but this episode plays the idea for a laugh. The episode is able to sidestep the fact that it would be insane to undergo massive surgeries and hormone therapies to win a medal by having robot genders be so ill-defined that it basically amounts to an oil change. The thing that most seems ridiculous, though, is that Bender, who is not a competitive athlete, could actually beat female athletes. The overall world record holders for weightlifting events are all men, but the female Clean-and-Jerk record is still over 400lbs and the Bench Press record is over 600lbs. That's way more than even most casual bodybuilders can lift, let alone a guy who mostly drinks beer and slacks off like Bender. 
The subplot about Hermes, too, predicts something that would later become an issue. Farnsworth designs him a suit which essentially grants him an unnaturally limbo adept figure, allowing him to almost defeat a much better athlete. This resembles the LZR Racer, a swimsuit designed by Speedo in 2008 which supposedly made swimmers more aerodynamic. The suit not only worked, but worked so well that 93 World Records were broken while wearing them and 98% of all the swim medals at Beijing in 2008 involving the suits. They were so devastating to the competition that they were called equivalent to doping and banned. I'd like to think the people designing it watched this episode. 
The subplot about dating Calculon is surprisingly sweet and, while Bender acts like a jerk, Calculon's sincerity makes it heartwarming. I also love how they play out the Soap Opera death, particularly the random intrusion of Fry as Congo Jack, who spears Coilette.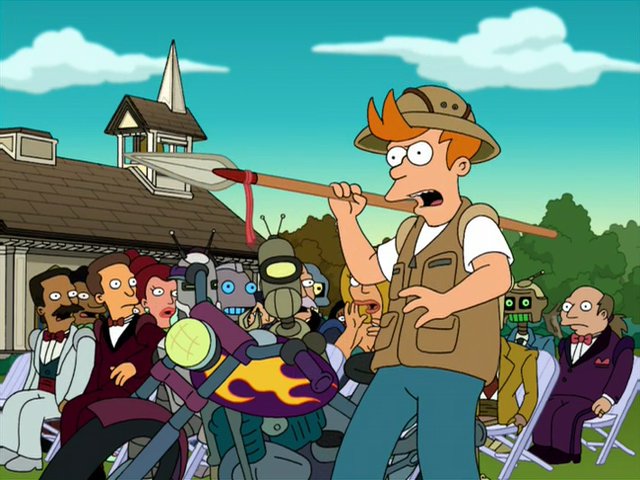 Overall, the episode's still funny, even if some parts of it aren't the best in the show.
FAVORITE JOKE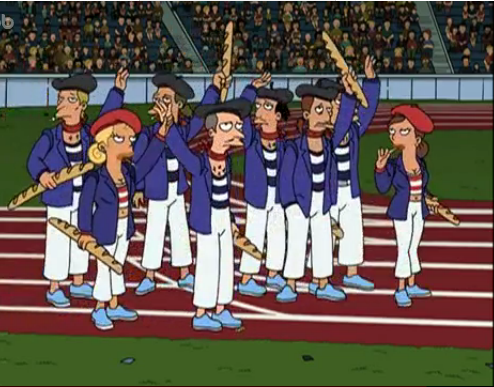 It's the list of all the fake countries in the future. There's a country that has a population of one person called the "Nation of Joe." There's a bunch of fur-clad robots from "Cyberia." Devil's Island, a prison island off of French Guiana which was used as a prison by France until 1946, is shown to now be its own country… whose entire population are clad as criminals. The Republic of French Stereotypes appears to be the most hated nation in the world, because its athletes are shown being snooty, wearing berets, and carrying bagets. I'd also like to add that Bender's fake country, Robonia, has my vote for best anthem: 
Hail, Hail, Robonia… A land I didn't make up!
See you next week, meatbags.
PREVIOUS – Episode 66: The Sting
NEXT – Episode 68: Obsoletely Fabulous
If you want to check out some more by the Joker on the Sofa, check out the 100 Greatest TV Episodes of All Time, Collection of TV Episodes, Collection of Movie Reviews, or the Joker on the Sofa Reviews.
If you enjoy these, please, like, share, tell your friends, like the Facebook page (https://www.facebook.com/JokerOnTheSofa/), follow on Twitter @JokerOnTheSofa, and just generally give me a little bump. I'm not getting paid, but I like to get feedback.