HBO has given us a continuation of the famous 1986-87 comic series that changed the industry.
SUMMARY (Spoiler-Free)
It's been 34 years since a giant mutant squid appeared in the middle of New York City, killed off several million people, and convinced the Earth that aliens were invading, preventing nuclear war. Since then, superheroes have been outlawed and Robert Redford has been president. An incident involving an attempt by the racist "Seventh Kavalry" to kill all of the law enforcement officers in Tulsa, Oklahoma has led to the passage of laws which allow Law Enforcement Officers to operate as costumed figures to protect their secret identities.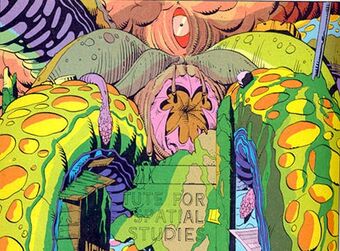 Angela Abar (Regina King), a survivor of the "White Night," operates as a Tulsa detective under the name "Sister Night" along with her fellow survivor Judd Crawford (Don Johnson) and Det. Wade Tillman (Tim Blake Nelson). After a police shooting by the Kavalry, Abar gets dragged into a series of events intertwining her fate with the characters who are still standing from the events of the original Watchmen: Adrian "Ozymandias" Veidt, Laurie "Silk Spectre" Blake, and Jon "Doctor Manhattan" Osterman. 
END SUMMARY
Damon Lindelof, the creator of the show, has spent a decade being roundly (and justifiably) chastised for the fact that his previous creation, Lost, appeared to have no f*cking clue where the story was going. As if to compensate, this show clearly was thoroughly plotted before the first scene was shot. It's almost as coherent in terms of themes and storytelling as its namesake comic, which is saying something. Without saying what it is, they have their own version of the clock motif from the comic and it pays off from the first episode to the last.
Every performance is great, which makes it hard for me to really say who the standout is. I'm going to say it's Regina King, mostly because she gets the most screen-time and is the focus of the story, but the fact that such an amazing actor isn't head-and-shoulders above the supporting cast tells you how elevated the supporting cast is. Many of them have to play characters who operate almost entirely through masks that don't allow for expression which is impressive. 
In terms of storytelling, the show manages to both select and adapt some of the more memorable elements of the comic, including a completely linearly non-linear episode (it makes sense in context), which contains one of the best temporal mind-screws I've seen in quite a while. The show does a great job managing it's fairly large cast and they accomplish a lot of worldbuilding through showing, not telling (which is something that I will literally always applaud). While the original Watchmen essentially satirized the existence of superheroes by pointing out that only damaged people would ever think superheroics are a good option, this show continues that by showing that people inspired by superheroes are also likely to view violence and secrecy more than normal people. The themes about the nature of racism are handled well, attacking it from all angles. 
The main thing that I appreciate about this is that it isn't just Watchmen 2. The show isn't focused just on the characters and what happened to them after the series, it's about what would be changed in a world like the one that Watchmen is set in. It's similar to what I appreciate about The Mandalorian: It's showing me more about a world that I want to see more of, but it isn't just trying to force a continuation of the previous story. Yes, it involves some of the same characters, but it doesn't focus on them. 
I liked it and I hope the next season gets made.
If you want to check out some more by the Joker on the Sofa, check out the 100 Greatest TV Episodes of All Time, Collection of TV Episodes, Collection of Movie Reviews, or the Joker on the Sofa Reviews.
If you enjoy these, please, like, share, tell your friends, like the Facebook page (https://www.facebook.com/JokerOnTheSofa/), follow on Twitter @JokerOnTheSofa, and just generally give me a little bump. I'm not getting paid, but I like to get feedback.