After five seasons and a movie, Steven Universe gives us… reality?
SUMMARY (Spoiler-Free)
Steven Universe (Zach Callison), along with the Crystal Gems Garnet (Estelle), Amethyst (Michaela Dietz), Pearl (Deedee Magno Hall), Lapis Lazuli (Jennifer Paz), Peridot (Shelby Rabara), and Bismuth (Uzo "Yes, Uzo Aduba" Aduba) finally dealt with the Great Diamond Authority (Patti LuPone, Lisa Hannigan, Christine Ebersole) and brought (relative) peace to the galaxy. In the movie two years later, the team managed to deal with Spinel (Sarah Stiles), a victim of Steven's mother's (Susan Egan) selfishness. They also founded an interstellar haven for gems that are now without purpose. And that's where this series begins.
Steven and the Gems are now trying to run "Little Homeschool," a facility for gems to learn how to deal with not being essentially slaves or soldiers under the Diamond Authority. The running of the school is tedious and often much less satisfying than fighting evil dictators was, and problems start to arise because of it.
END SUMMARY
In a lot of ways, this might be the best thing this series ever gave us, because it reminds us that there is no end to progress, it's just a hill you keep rolling the ball up and hoping it doesn't roll down. The Movie tried to address this idea, and did to an extent, but the show gets a lot more of the point across. There are messages about the fact that adulthood (which is what Steven has essentially hit) consists largely of responsibilities that are not the kind of fun challenges we see on television. Sure, when you fight a giant centipede there's a chance you die, but after the fight's over, it's over. When you finish teaching a class of gems how to operate a bank account, then… you need to teach the next class. Unlike a genocidal war (like the Diamonds usually waged), there is no end to helping the world develop. The show is reminding us how hard doing "good" really is, something that it always tried to do in the past with empathy.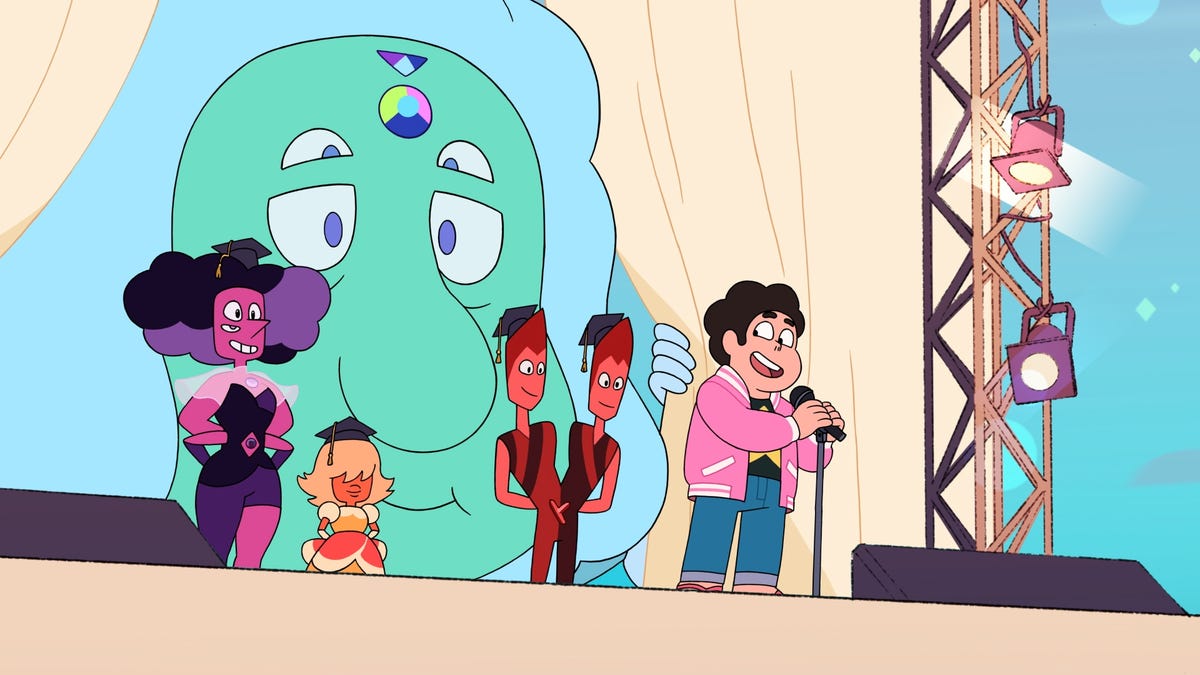 In addition to that very somber theme, the show deals with the reality of how trauma is usually associated with the kind of things Steven has dealt with, as well as the trauma of finding out that your parent was, in fact, not a great person. In this series, at least so far, Steven discovers that he may be inheriting some of his mother's rage-based powers, which leads him to be afraid of expressing himself openly. We also see many of the characters fearing change, whether it be relationships ending or just evolving. 
The only problem so far is that they haven't really indicated what direction the mini-series is going to go, nor how many episodes it's going to be, but I can say that I think there's some interesting things set-up and I really hope they pay off.
If you want to check out some more by the Joker on the Sofa, check out the 100 Greatest TV Episodes of All Time, Collection of TV Episodes, Collection of Movie Reviews, or the Joker on the Sofa Reviews.
If you enjoy these, please, like, share, tell your friends, like the Facebook page (https://www.facebook.com/JokerOnTheSofa/), follow on Twitter @JokerOnTheSofa, and just generally give me a little bump. I'm not getting paid, but I like to get feedback.