Disney finally gave us the Star Wars side story that we secretly always wanted and I'm pretty happy about it.
SUMMARY (Spoiler-Free if you have the internet)
It's 5 years after Return of the Jedi and most of the Galaxy's collective sh*t is pretty broken. A lot of soldiers are now working as private armies, a lot of formerly powerful Imperials are trying to resist the new Republic, and bounty hunting is a viable business model.
The Mandalorian (Pedro Pascal) is a bounty hunter who operates alone and tends to be fairly brutal in combat. His bounty hunting guild leader Greef Karga (Carl "Apollo" Weathers) informs him that there is a client (Werner "Holy sh*t, Werner Herzog" Herzog) with a special bounty request. When the bounty price is revealed to be a cache of Beskar steel, sacred to Mandalorians, the Mandalorian agrees. After gaining the assistance of a vapor farmer named Kuill (Nick Nolte) and a robot bounty hunter IG-11 (Taika "What Waititi Do in the Shadows" Waititi), he succeeds in finding the target, but discovers that it is a child from the same species as Yoda. Having a change of heart, the Mandalorian goes on the run with The Child, earning enemies everywhere.
END SUMMARY
Let's get it out of the way: Baby Yoda is about the cutest damned thing out there. It's what happens when someone looks at baby Groot and goes "I'll top this." Is it bad writing to have a character whose main trait is just that he's adorable? Maybe, but also HE'S SO ADORABLE YOU GUYS. Also, I think they're going to name the child Yoda just so that, in retrospect, everyone isn't wrong about what they call him. 
Star Wars has had a lot of great stuff and a lot of crap over the years, but mostly it's created an amazing world that manages to combine the possibilities of almost every frontier. Any scene can take place, justifiably, in almost any environment. You can have a representation of a futuristic armada intercut with a sequence of desert survival and nothing about that is inconsistent with the Star Wars universe. That means that, in Star Wars, you can imagine almost any background for a character or culture and it will still fit. Star Wars doesn't stifle the imagination, it feeds it. That's why it's so great to get a show like this, where we just see a completely different story playing out parallel to the rest of the series.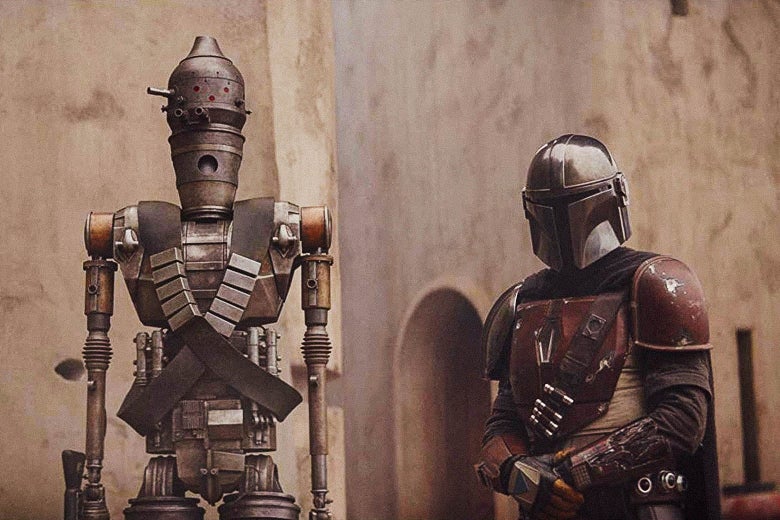 While Star Wars was based on the old Buck Rogers serials and their sci-fi action/adventure roots mixed with Japanese jidaigeki films (mostly The Hidden Fortress), The Mandalorian is its own melting pot of genres. The main character is based on the Man with No Name figure typically associated with Clint Eastwood, a taciturn gunslinger who travels alone and has his own code of ethics. However, once he becomes attached to The Child, the series shifts slightly to be more like Lone Wolf and Cub, the famous Samurai manga and film series about a father doing horrible killings to protect his son. By blending the Western and Eastern influences with the sci-fi and fantasy setting, the show can justify making episode-specific genre shifts. This means that rather than having to focus on maintaining a consistent tone, the series allowed the writers and directors to explore more when they had control while still being true to the characters. For example, we have a heist episode that ends up also playing out a number of horror tropes and it still works.
The action sequences in the show are among the best in the Star Wars universe, partially because there are more people with guns and fewer space wizards. Not that I don't love a good lightsaber battle as much as the next guy, but that's been the majority of sustained action sequences in the franchise. Instead, we get to watch a bounty hunter use a combination of fantastic weaponry, tactical planning, and training to take out small armies of enemies. Hell, we get to see a single person fight a TIE fighter and, well, it's everything that Star Wars videogames told me it would be. 
Overall, this is just a great show. Does it have a huge character arc for the main character? Not really. Does it have a ton of lines that are profoundly quotable and meaningful? Nope. Does it teach me things about myself that I would never have found otherwise? Not at all. BUT IT'S JUST SO FUN. It's got a space cowboy kicking ass to protect the cutest creature in TV history, a phrase that also describes Firefly, and that's all I wanted out of it.
If you want to check out some more by the Joker on the Sofa, check out the 100 Greatest TV Episodes of All Time, Collection of TV Episodes, Collection of Movie Reviews, or the Joker on the Sofa Reviews.
If you enjoy these, please, like, share, tell your friends, like the Facebook page (https://www.facebook.com/JokerOnTheSofa/), follow on Twitter @JokerOnTheSofa, and just generally give me a little bump. I'm not getting paid, but I like to get feedback.