Harley Quinn gets her own television show and it had all the parts to be amazing without quite getting them together… yet.
SUMMARY (Spoiler-Free)
Harley Quinn (Kaley Cuoco) is the Joker's (Alan "Curse this sudden but inevitable" Tudyk) girlfriend. After he uses her to escape from Batman (Diedrich "The Brave and the" Bader), she is locked in prison with Poison Ivy (Lake Bell). The pair break out and Harley realizes that the Joker doesn't really love her, so she sets out on her own and get her own crew. She picks the baddest of the people who couldn't do better than her: King Shark (Ron Funches), Doctor Psycho (Tony Hale), Clayface (Alan "Were I unwed I would take you in a manly" Tudyk), and Sy Borgman (Jason "I was also Duckman" Alexander). Together, they help Harley get into the Legion of Doom in order to show the Joker that she's the real villain.

END SUMMARY
Dear readers, I wanted to love this show. I wanted to scream of its success from the rooftops. I wanted to be able to say, "there is a property in which Harley Quinn is the badass that we all deserve her to be since Paul Dini had that stroke of genius." Unfortunately, Birds of Prey ended up doing that better than this show, but this show has the potential to do so much more.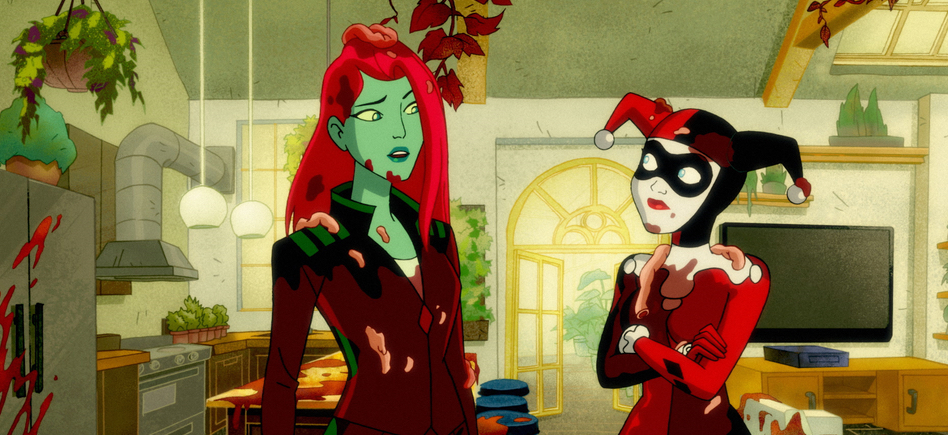 This show fell into the same trap I felt like Titans fell into in its first season. You can practically hear the writers' thought process: It's rated-R, it's a mature show, so naturally that means we have to justify it, right? Let's put in a lot of f*cks and a ton of gratuitous violence and such. I mean, let's have the Joker wear another guy's face and rip it off like a mask, because that's a thing we can't show on any other cartoon? If we haven't done it before, that makes it original and therefore good!
Well, unfortunately, that's not how it works. Putting a bunch of people saying "tits" on screen doesn't make a show mature, it makes it what a 14-year-old boy thinks is mature. Now, I will say that the show definitely got better about this as the series went on, with the violence and the language feeling more organic, but the first few episodes felt really like they were straining to justify a red band trailer. I love some good old ultraviolence as much as the next droog, but make it count, people. Or make it funny. Your main character and her primary antagonist are both derivations of clowns, so I would hope you could make it a little more enjoyable to watch them go apesh*t.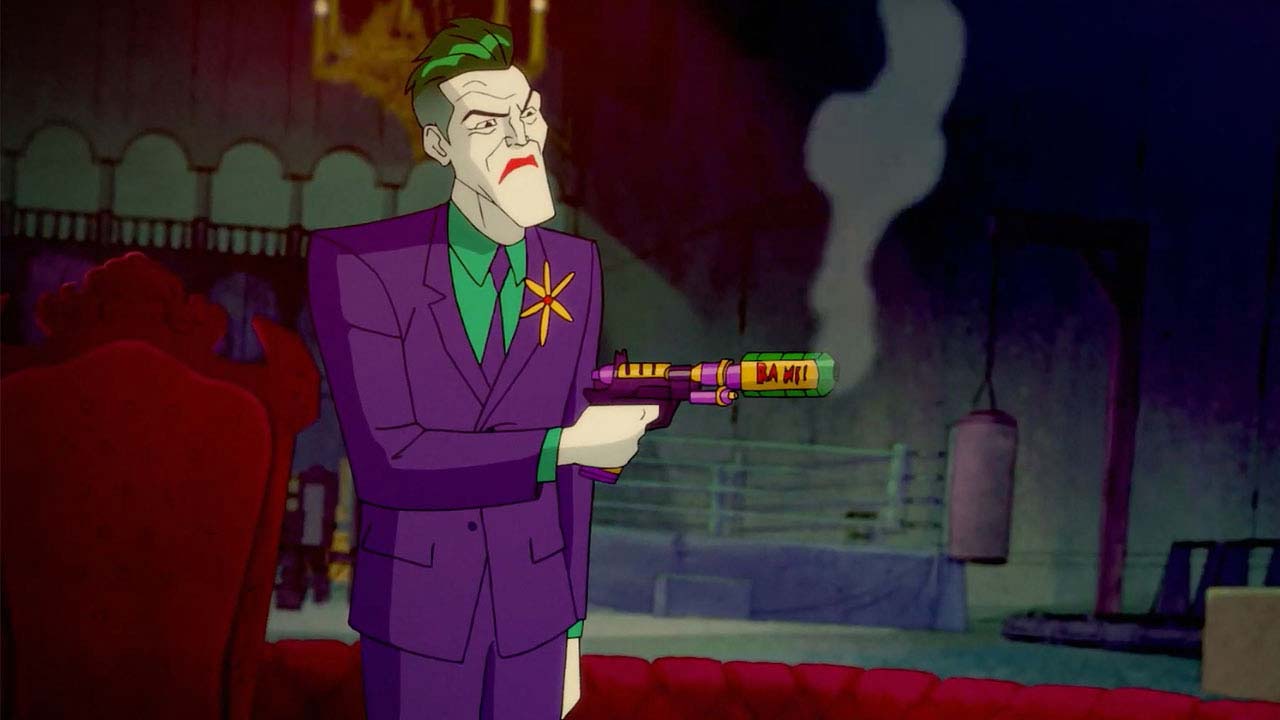 It also doesn't help that the emotional journey Harley is on throughout the season really seems like she's just going around in circles a bit. I mean, she claims to be over the Joker, but then spends a season defining herself by trying to outshine him, which is NOT being over someone. Ultimately, I think she learns that lesson, but it feels like they stretched the arc by like half a season in order to make it land on the finale. 
And, of course, as several people have brought up online, the show has some issues with how it handles certain topics. Mainly, there were accusations of being anti-Semitic, something that seemed to fly in the face of the fact that Harley Quinn is typically represented as Jewish (and is revealed to be in this series as well). In the second episode, which takes place at Penguin's nephew's Bar Mitzvah, Penguin's sister-in-law is represented in a manner which was accused of being stereotypical. The same is true of Sy Borgman, who even the creators referred to, jokingly, as "half-man, half-Jew." Harley's parents are also not particularly flattering. I think these jokes probably were intended to be part of the "edgy" vibe of the show, but the fact is that they not only will upset people, they just weren't that funny to begin with. I believe comedy should challenge and, at times, offend, but part of the reason stereotypes have been dropped from comedy routines isn't just that they're often inaccurate and offensive, but that they were the basis for comedy for like 50 years and they're not funny anymore. Just write a real joke, people.
However, aside from these issues, I thought this show did a great job. The animation style is fun. The supporting characters are amazing, mostly because they all have their own fun quirks. Poison Ivy develops an embarrassing crush on a fellow super villain, King Shark is a computer nerd despite being a giant mutant shark/human, Clayface (presumably the Basil Karlo version) is a terrible actor despite having the ability to become anyone, and Doctor Psycho is a misogynist who loses his previous supervillain status for calling Wonder Woman (Vanessa Marshall) the "C-word" on live television. Some of the commentary in the show, particularly the discussions of female villain inequality, are on point. The Queen of Fables (Wanda Sykes) is freaking hilarious. This is one of my favorite versions of the Joker because he seems even more self-aggrandizing and random than usual, while simultaneously having more normal habits, such as loving Reese Witherspoon. Also, just having Alan Tudyk in something gives it an additional Star in my ratings. 
The thing is, this show has all the pieces to be great and, at times, is, it just needs to figure out better what's actually good for a mature show and what's just pretending to be mature.
If you want to check out some more by the Joker on the Sofa, check out the 100 Greatest TV Episodes of All Time, Collection of TV Episodes, Collection of Movie Reviews, or the Joker on the Sofa Reviews.
If you enjoy these, please, like, share, tell your friends, like the Facebook page (https://www.facebook.com/JokerOnTheSofa/), follow on Twitter @JokerOnTheSofa, and just generally give me a little bump. I'm not getting paid, but I like to get feedback.