Aidy Bryant stars as a journalist who wants to change everything about her life without changing her appearance.
SUMMARY (Spoiler-Free)
Annie Easton (Aidy Bryant) is a Journalist who is stuck working on a magazine's calendar despite her excellent writing skills. She has a boyfriend (of sorts) named Ryan (Luka Jones) who routinely hides her to keep others from knowing about their relationship. Her father (Daniel "Home Alone" Stern) has cancer and her mother (Julia "It's Pat" Sweeney) is overbearing and critical. Her boss, Gabe (John Cameron Mitchell) is dismissive and condemnatory of overweight people. Her roommate, Fran (Lolly Adefope), is supportive but also very self-centered. Annie finally gets a break, but having a spotlight just means more people to criticize her, including one very dedicated internet troll.
END SUMMARY
Annie is fat and at no point does the show try to beat around that particular bush. At two points during the first episode, a woman (Katie Wee) who advertises as a personal trainer tries to convince Annie to hire her by using every trick in the book that society uses against fat people: "You actually have a really small frame," "You weren't meant to carry around all of this extra weight," "You could be so pretty,""You don't have to settle for [your body]," and a number of ways of saying that fat people are essentially diseased. Naturally, when Annie finally gets frustrated with her put-downs and says "f*ck you," the woman responds with "I was just trying to help you, you fat bitch." Annie walks away and smiles as the song "Pretty Ugly" by Tierra Whack plays, with the chorus "Don't worry 'bout me, I'm doing good, I'm doing great, alright."
And that's pretty much the summary for the show: Annie just wants to be okay with who she is. She's a fat woman, and no one seems to be able to see that as anything other than a problem that needs to be fixed. At the beginning of the series, Annie has a number of problems, but all of them are the result of not having self-esteem from years of being shamed for her body, as opposed to actual problems that derive from her weight. She lets Ryan treat her like crap (he won't buy a second pillow, makes her sneak out the back door, and won't use condoms), her boss be cruel to her, her mother belittle her, and even random strangers take shots at her, all because she's been told that she's not right the way that she is. However, throughout the season she starts gaining confidence until finally at least one of her critics is forced to admit that they're jealous of the fact that she can feel confident as she is.
The music for the show is brilliant and almost always matches the theme perfectly. The acting is amazing, with both great regulars and excellent guest stars. The writing is, to me, sometimes a little inconsistent, but it never falls below "good" and often settles around "great." It never feels trite or overdone, and there are some great quotes, particularly from Gabe. Overall, I liked this show a lot.
However, I didn't think that I could quite do justice to how well I thought this show handled its subject matter, I asked for a guest author to give her opinion. I hereby pass the mic to The Faceless Old Woman Who Lives On My Couch and go make a cocktail.
THE FACELESS OLD WOMAN WHO LIVES ON MY COUCH
I'd been meaning to read the memoir the series is based on for some time. I've missed Lindy West's voice since she quit Twitter a few years ago. She's still writing but without that social media pipeline I don't see her articles as often, either. I adore Aidy Bryant and having the two of them working together is just a dream come true. The show is exceptionally and at times painfully good at illustrating the frustrations of being fat, being a woman, and especially being a fat woman.
It's set in Portland, Oregon, previously repped in comedy television in Portlandia. (Portlandia creator Carrie Brownstein directs Episode 2 of Shrill.) Whereas Portlandia was a surreal but loving lampoon of the liberal Elysium, Shrill digs a little deeper into the reality of living in a place where everyone thinks they're a really good ally, and in that respect I think it's a great addition to the small family of shows set in the City of Roses. I've never lived in Portland, but anyone who's spent a lot of time in liberal circles knows someone who's said something like, "Do I look like the establishment? I'm wearing fucking nail polish!" (John Cameron Mitchell is perfect in this series.)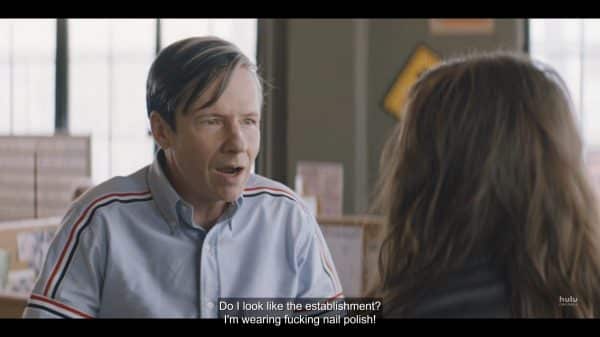 In talking to other fat women about this show, there's a conflict between appreciating the show's relatability and representation of the difficulties many people have with being fat, and the deep desire for a fat lady character to just have nice things for once.
On the "nice things" end, Annie does have a kickass wardrobe and apartment. Part of me is like "how would Annie have such a nice apartment with only one roommate if she worked as a blogger at an alt weekly, how could she afford all these cute plus size clothes, these things are expensive!" On the other hand, I'm also thinking "how awesome is it to have a fat leading lady who isn't wearing a loudly printed potato sack?!" The wardrobe, the apartment, the various locations in Portland make a rich and colorful world for the show. The fat-friendly pool party scene is a major high point.
Annie's job creates problems for her because she isn't satisfied with the assignments she gets and her boss is extremely fatphobic. However, the biggest point of frustration for viewers is probably Annie's shitty love interest, Ryan. Ryan is the quintessential Portland f*ckboy: disheveled beard, cohosts a shitty podcast, needs his mom to take care of him, doesn't want his friends to know you exist, can't commit to anything but texts nonstop if you aren't around when he wants you. A lot of people can relate to dating a guy like this, but the rotten cherry on this garbage sundae of a human is that he pressured her into having unprotected sex with him, multiple times. Unfortunately, I think a lot of people can relate to that too. As a result, Annie has an abortion in the first episode. (Which is handled very well! It's not a big deal!) (Side note on the morning-after pill subplot here: the evidence isn't conclusive on whether it's less effective on folks over 175 lbs, you should definitely still take the pill if you're in a situation, but it's still probably a poor choice for routine birth control. Talk to your doctor.)
Ryan seemingly has no qualities that would explain why anyone would date him despite his faults. He's not smart, charismatic, or handsome, nor does he play in a band. All of Annie's friends know he is trash. We, the viewers, know he is trash. Annie thinks he's "better than nothing."
I think some people are very tired of the narrative of the fat woman who has no self-esteem, and that's extremely fair. I think the show finds a good balance in that Annie is learning how to stand up for herself at work, how to navigate her mother's good-intentioned fat-shaming, and even confronts a vicious internet troll (a fantastic cameo from Beck Bennett). In her relationship with Ryan she also makes this sort of progress, but more slowly. I think this is, truly, very real when you're attached to someone and you've envisioned them in your head as a future spouse. It's hard to unwrap your head from that attachment, and you find yourself pushing away anyone who tries to clue you in. The show introduced another, really wonderful love interest for Annie midway through, and here's hoping we see him again. But Annie's just getting started and sometimes things get worse before they get better.
If you want to check out some more by the Joker on the Sofa, check out the 100 Greatest TV Episodes of All Time, Collection of TV Episodes, Collection of Movie Reviews, or the Joker on the Sofa Reviews.
If you enjoy these, please, like, share, tell your friends, like the Facebook page (https://www.facebook.com/JokerOnTheSofa/), follow on Twitter @JokerOnTheSofa, and just generally give me a little bump. I'm not getting paid, but I like to get feedback.