Leela and Zapp Brannigan get marooned in a garden of Earthly delights.
SUMMARY
A death sphere has been seen destroying planets and is now headed for Earth. Zapp Brannigan (Billy West) fails to come up with a plan, so Richard Nixon (West) asks the Professor (West again) to come up with a plan. The Professor sends Leela (Katey Sagal) in a stealth ship to attack the death sphere and Zapp forces her to take him along, much to Leela's frustration. Although the ship is invisible, Zapp and Leela are not. They make it to the death sphere, which is revealed to be called V-GINY. They get attacked by the ship and crash on a tropical planet. Leela awakens pinned under a tree which Zapp can't move. Leela and Zapp strip to avoid overheating, but Zapp courteously provides her leaves to hide their naughty bits and forages for food.
Back on Earth, Fry (West) starts to worry about Leela, something that annoys Bender (John DiMaggio). Farnsworth determines that V-GINY was formed by the collision of a military satellite and an FCC satellite. He concludes that the death sphere is destroying "indecent" planets. He tries to convince the citizens of Earth to be less indecent so that V-GINY might not destroy them, but his efforts fail. Brannigan surveys the planet that they landed on and determines that the ship is destroyed and the planet contains no intelligent life. He and Leela watch on in horror as V-GINY destroys Earth. Leela, dehydrated, starts to imagine a talking snake comparing them to Adam and Eve of a new planet. As they discuss repopulating, an apple falls on Leela's head.

The two start to kiss, but when Leela bites the apple, she gets momentarily rehydrated and starts to ask Zapp questions about his story. Slowly, it's revealed that: The ship is working fine, Zapp's been eating chocolates and drinking mineral water while she starved, he kept her dehydrated so that she'd be easier to trick, they're on Earth which he faked the destruction of, and he put the tree on Leela. Literally everything has been so that Leela would bang him. Fry arrives and reveals they're on a Pacific Island where the Planet Express crew went to do a purity chant to hopefully deter V-GINY. V-GINY arrives and explains the Earth may be redeemed if Leela and Zapp prove to be Adam and Eve by having sex. Leela complies to save the world and Fry is forced to watch as V-GINY labels it approved for all audiences.
END SUMMARY
I think this episode was first conceived as a Simpsons gag, due to the fact that they did an episode based on Homer and Marge being nude throughout and famously had the entire Springfield Methodist Church sing "In The Garden of Eden" by I. Ron Butterfly. It was fitting, much like this episode's title, since the song "In-A-Gadda-Da-Vida" by Iron Butterfly is literally a mispronunciation of "In The Garden of Eden."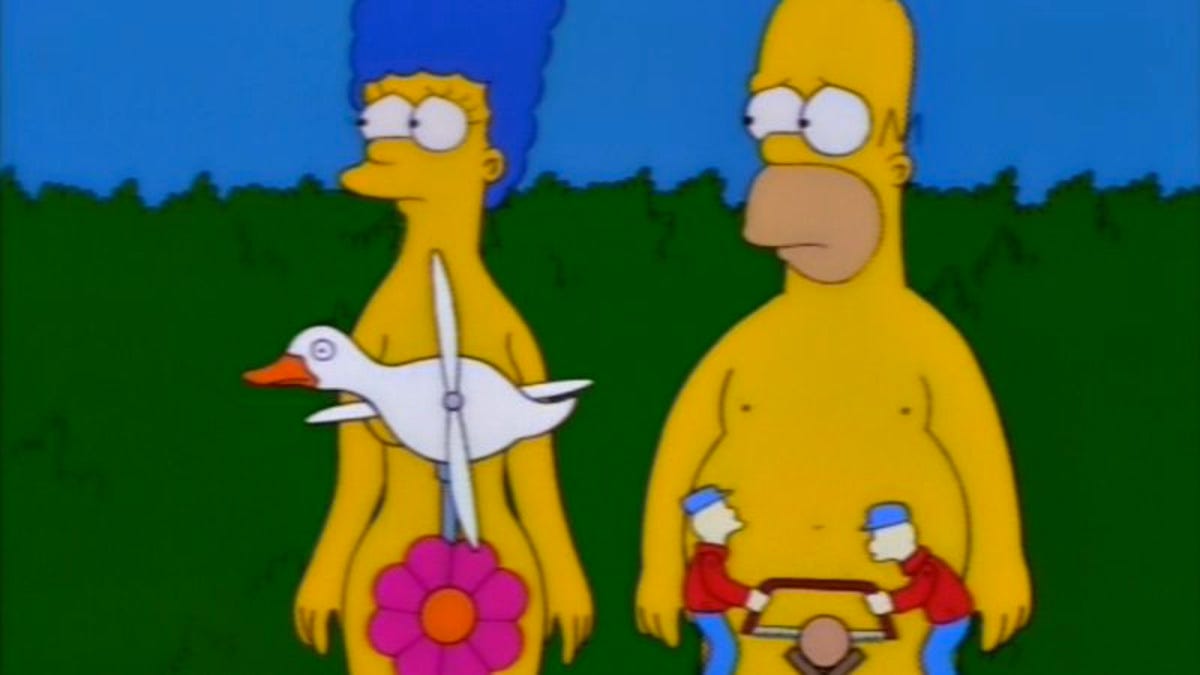 I admit to not thinking much of this episode. Part of it is that, right after we finally got Futurama back, this episode basically conveys that Fry and Leela are not in a relationship, despite the fact that one episode prior, and one movie before that, we had them establish that they are in love. It didn't feel like there had been anything to merit this change, except that the writers wanted them to go back so they could keep using some of their unproduced scripts. Also, a lot of the jokes in this episode feel cheap, which apparently is because this was them getting a bunch of the lines out that FOX wouldn't have allowed them to use. I mean, V-GINY just isn't that funny beyond the first use, and they never use it for anything more than just "ha, it sounds like vagina."
Overall, this remains a bit of a let down.
FAVORITE JOKE
Actually, although the name V-GINY really isn't that funny, I do appreciate that the plot is a reference to two different Star Trek sources. The idea of a probe gaining sentience and having a name that's a corruption of a longer term is based on V'Ger, the evolved Voyager 6 probe from Star Trek: The Motion Picture. The idea of two probes colliding and merging into one entity with combined form and mission comes from the original Star Trek episode "The Changeling." I just appreciate that they managed to mash the two ideas up, much like the probe in the episode.
See you next week, meatbags.
If you want to check out some more by the Joker on the Sofa, check out the 100 Greatest TV Episodes of All Time, Collection of TV Episodes, Collection of Movie Reviews, or the Joker on the Sofa Reviews.
If you enjoy these, please, like, share, tell your friends, like the Facebook page (https://www.facebook.com/JokerOnTheSofa/), follow on Twitter @JokerOnTheSofa, and just generally give me a little bump. I'm not getting paid, but I like to get feedback.