The first animated feature film in the franchise is not quite what I hoped, but it's not a tragedy.
SUMMARY (Spoiler-Free)
Norville "Shaggy" Rogers (Will Forte/Iain Armitage) adopts a talking dog which he names Scooby-Doo (Frank Welker) as a kid. The two become best friends, and one Halloween night they end up meeting three other children: Fred Jones (Zac Efron/Pierce Gagnon), Daphne Blake (Amanda Seyfried/Mckenna Grace), and Velma Dinkley (Gina Rodriguez/Ariana Greenblatt). The five end up thwarting a fake haunting in a local house and become a team of supernatural sleuths known as "Mystery Incorporated."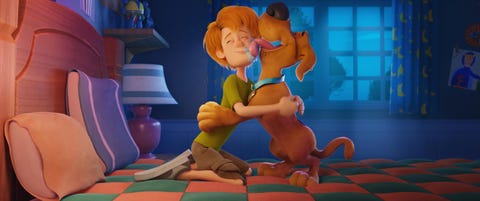 Ten years later, the group is trying to become an actual business, but Scooby and Shaggy are accused of being dead weight. They go and sulk by bowling, where they are attacked by robots. The team ends up being caught in a scheme by supervillain Dick Dastardly (Jason Isaacs), resulting in them teaming up with the Blue Falcon (Mark Wahlberg), his canine robot companion Dynomutt (Ken Jeong), and his pilot Dee Dee Sykes (Kiersey Clemons). It turns out this time the stakes might be the fate of the world.
END SUMMARY
Alright, I'm going to split this review so that I don't drive people nuts. The first half is going to be me talking about this as a reviewer, the second as a Scooby-Doo fanboy. 
As a reviewer, this movie has some good points. The animation style really does seem like they just made a CGI model of the original cartoon designs with some era-appropriate updates. There are a number of surprisingly solid jokes for a film like this, including some decent slapstick gags. The film covers both the origin of the team as well as their "greatest challenge," but it never really feels rushed. I was surprised how much happened in only 90 minutes. The addition of Blue Falcon (or at least his son Brian who takes over for him) allows the movie to put in some creative action sequences, and Jason Isaacs's interpretation of Dick Dastardly manages to be deeper than the character has ever really been before and yet still a stereotypical villain. Also, there are a ton of cameos from past cartoons and the traditional goofy sound effects that will probably give you some childhood nostalgia. 
On the negative side, the voice acting is probably going to be divisive. I didn't think it was really that great, because each of the voices felt more like the actor than the character. The plot is kind of ridiculous even for a kids' movie, with me frequently going "wait, really?" Fortunately, it's not too heavy on plot, trying instead for some deeper characterizations between the action and comedy. Unfortunately, it tries them with Blue Falcon and Dick Dastardly more than it does with the actual Scooby team and, honestly, Blue Falcon wasn't that interesting. He's the fame-seeking son of the original Blue Falcon, which could be worthwhile as the focus of a movie, but he's only an ancillary character so most of the scenes feel weird and unnecessary. 
Overall, it's not a bad movie, but it doesn't ever really come close to the level of Pixar or Into the Spider-Verse or other modern great animated films. If you've got kids, it's probably worth it when this movie comes out on Redbox or rental, but don't spend the 20 bucks to get it now. 
Okay, so, now I'm going to address this as a long-time Scooby-Doo fan. I want you to understand that I have gone out of my way to watch almost every Scooby-Doo property and I am only mildly ashamed of that. Hell, I reviewed Daphne and Velma on here, because I'm that dedicated. So, as a fan, I say the following: It's amazing that this movie can be so close to getting it right and yet not really get it at all. The film contains a decent reproduction of the original Scooby-Doo, Where are You? theme sequence that I think kind of represents the film as a whole: It's got the elements, but not the spirit. It's like the people who made this read all of the Wikipedia entries on Scooby-Doo and the rest of the Hanna-Barbera family, but didn't watch them.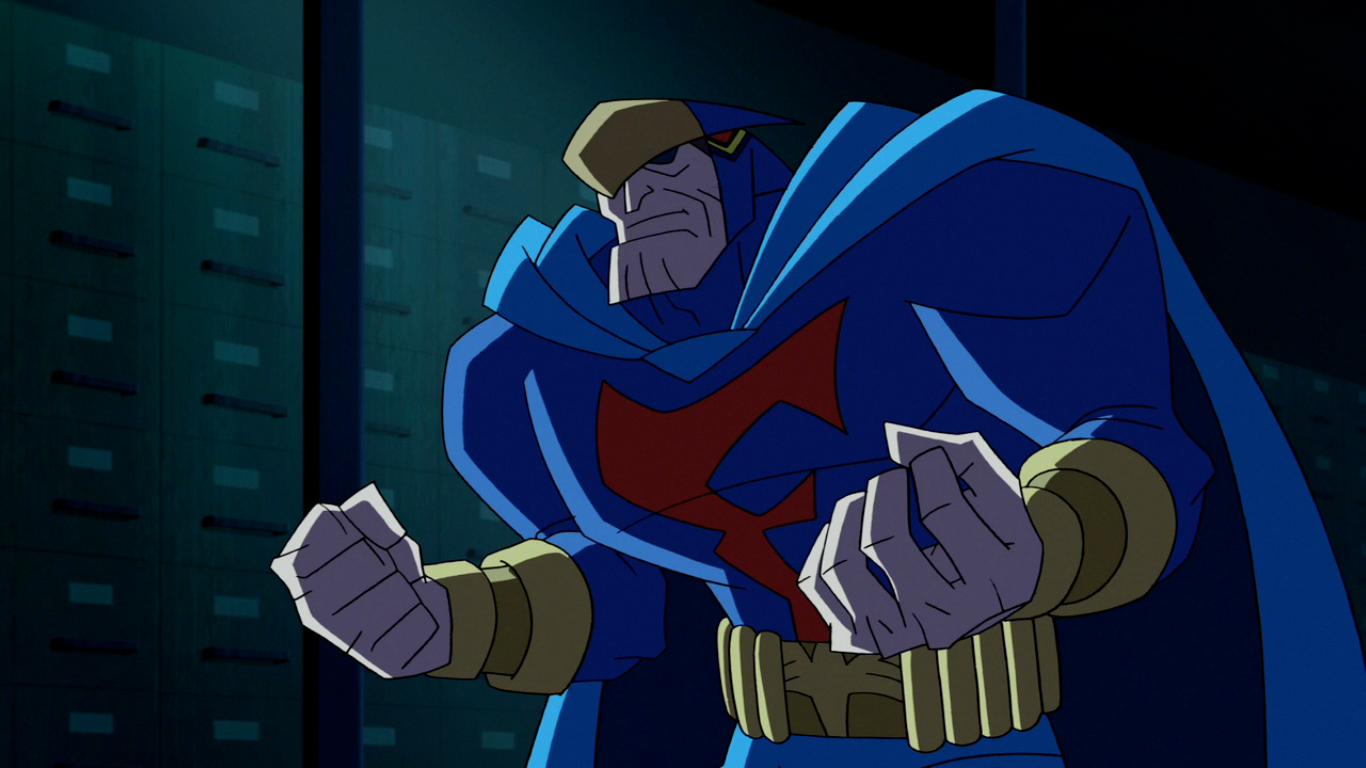 Part of why I feel that way is the sort of "sampler platter" this film presents of the Scooby-Doo franchise. We start off with the gang as kids, like A Pup Named Scooby-Doo, then we see the Scooby-Doo, Where are You? Opening play out, then we see the gang meeting up with Simon Cowell, as they would in The New Scooby-Doo Movies, then we see them dealing with robots and superheroes rather than supernatural entities (although we end up seeing an actual supernatural element in the film), which is reminiscent of the later Scooby-Doo shows. This should have given me a nostalgia overload, but instead it ended up feeling like a jumbled mess, because while Scooby-Doo and the gang may have done things as diverse as rebooting the universe by defeating an eldritch abomination, helping KISS stop a witch, participating in the Laugh-a-lympics, or helping Batman fight crime, they never did them all at once. This film starts out with the traditional "meddling kids" model, but then abandons it when the plot actually begins, instead becoming more of an action comedy focused on Dick Dastardly and the Blue Falcon. That means that the characters we see in the first act should be completely out of their element throughout the rest of the movie, but instead they pretty much immediately just shift into the new paradigm without any issues. It just feels off.
It also doesn't help that none of the characters really feel right either, from the characterizations and design updates to the voice actors. I love Will Forte, but he doesn't really try to deliver Shaggy's lines like he was Shaggy. Instead, it just comes off as Will Forte trying to act like himself in the 60s. He just doesn't come off as a "scared hippie." The same is true for most of the voice actors, aside from Amanda Seyfried and, of course, Frank Welker. It's weird for me that they decided they had to have four celebrity voices when there already are already four semi-famous actors who voice the current version on television: Grey Griffin, Kate Micucci, Matthew Lillard, and Frank Welker, who has been voicing Fred for 50 freaking years. None of them really feel like the characters they're supposed to be, from the voices to the appearances to the things they say and do. That extends to most of the other characters as well, with the usually goofy Dynomutt being a snarky jerk, the usually Batman-esque Blue Falcon being kind of an idiot, Captain Caveman (Tracy Morgan) speaking normally and being sarcastic, and Dick Dastardly being an actual genius supervillain as opposed to just a comic badguy. It's like they're all drawings of the characters made by someone who had the originals described to them, rather than seeing the real thing.
Honestly, I still enjoyed parts of the movie, and I could overlook almost any of this if it were just a better film in general, but it still took it down a bit for me. 
If you want to check out some more by the Joker on the Sofa, check out the 100 Greatest TV Episodes of All Time, Collection of TV Episodes, Collection of Movie Reviews, or the Joker on the Sofa Reviews.
If you enjoy these, please, like, share, tell your friends, like the Facebook page (https://www.facebook.com/JokerOnTheSofa/), follow on Twitter @JokerOnTheSofa, and just generally give me a little bump. I'm not getting paid, but I like to get feedback.