Explanations
I DON'T OWE YOU PEOPLE ANYTHING.
Also, the Academy Awards are complete crap.
A brand new Spider-Man debuts along with a host of other Spider-Beings in this amazing work of comic art.
SUMMARY
Miles Morales (Shameik Moore) is a teenage fan of Spider-Man (Chris Pine) who is dealing with his new life at a boarding school located in an elite area of Brooklyn. His father (Brian Tyree Henry) and his mother (Luna Lauren Velez) are both supportive, but also have high expectations of Miles due to his academic and athletic potential. After crushing hard on his classmate Wanda (Hailee Steinfeld), Miles goes to his uncle Aaron (Mahershala Ali) for advice and ends up being bitten by a radioactive spider while painting a tunnel with his uncle. It turns out that Miles is now a new Spider-Man at a time when the world needs him most, because the Kingpin (Liev Schreiber) is trying to open a portal to the multiverse which summons a number of parallel Spider-beings, including an older Spider-Man (Jake Johnson), Spider-Woman (Hailee Steinfeld), Peter Porker the amazing Spider-Ham (John Mulaney), SP//dr the Japanese mecha spider-woman (Kimiko Glenn), and Spider-Man Noir (Nicolas Cage). Together, they have to save the multiverse from a cabal of supervillains.
END SUMMARY
Origin stories are hard. Even if we're being introduced an original character or a character that isn't well-known, like Darkman or Ant-Man, going through all of the steps of a character's transformation from zero to hero is usually formulaic. Some movies mostly eschew the traditional origin story in favor of only showing a few flashbacks of the origin, like Tim Burton's Batman, but if you're doing an origin story, they're usually going to contain the same beats. This movie is no exception, except in how exceptionally it does it. In fact, it doesn't just do an origin story, it heavily leans into all of the good things that can come from watching an origin story, then ratchets that needle up to eleven by introducing, not one, not two, not three, but seven Spider-beings in the movie, with even more by cameo.
Part of it is that the film knows it can rely on the audience's familiarity with the Spider-Man franchise. The first Spider-Man we meet is introduced using flashes from past Spider-Man movies, but with some twists to say "this is that Spider-Man, but not exactly, so don't get worked up over continuity." This movie doesn't just rely on flashback origin stories, but it plays with the idea heavily by doing it multiple times, each time presenting it as an origin-story comic book in a different style resembling that character's universe, including one humorous scene where they attempt to introduce three at the same time, overlapping their origins. Part of the reason why this works is that the characters are all variants on the same Spider-Man story, even though they don't necessarily share gender, powers, or even species. It's basically a movie dedicated to proving that even if there are only a handful of core stories in the world, the variations on those stories and the variations on the variations can provide us with an infinite amount of entertainment.
Despite the number of superpeople/superanimal in the movie, the film's central story is that of Miles Morales coming to terms with not only being Spider-Man, but with the legacy that wearing a spider upon your chest brings with it. With every other Spider-character, they're already at varying stages of being a superhero (i.e. brand-new, experienced, golden age, over-the-hill), which basically gives Miles an idea about all of the different ways that being Spider-Man can go. However, he also gets the benefit of all of them telling him the one thing that absolutely defines a Spider-Man: Always getting up when you're knocked down. This isn't a new theme, in fact it's so overused it's almost cliche, but the film actually gets to the implications of this statement, rather than just making it an empty platitude. A large part of this is that the art style in the film is very big on accentuating impacts. When a character gets knocked down, YOU FEEL IT. You know just how hurt they are right now and how hard it's going to be to get up, which makes it actually feel like a heroic act when a hero, broken, bleeding, and beaten, still manages to continue.
Another thing is that this movie knows one thing that so many movies forget: Even in superhero movies, we want heart. Most of this movie isn't focused on just watching Miles be Spider-Man, but on how he feels. Yes, he's dealing with new superpowers and interdimensional travelers, but he also is dealing with guilt over not being able to help people due to his inconsistent powers, feeling like he's disappointing his parents and his mentor Spider-Man, and just dealing with the difficulties of being a teenager. Much like in Tobey Maguire's Spider-Man 2, Miles' emotional instability makes his powers unstable, which culminates in a scene in the movie in which he finally finds emotional clarity and his powers at the same time. In most films, the "suddenly able to use your powers" moment is cliche and feels unearned (exception: "I'm always angry" due to Rule of Awesome). But, since the film tied his powers to his emotions, his emotional growth in that moment actually DOES justify the sudden use of his abilities, giving the audience a massive burst of catharsis right before leading us to the third-act ramp-up.
The art style in the film is possibly the best I've ever seen in an animated film, including Disney and Pixar, mostly because it varies from character to character (based on universes) and looks like living comic book panels, complete with animated sound effects. SP//DR is drawn as an anime character, Spider-Man Noir has no color whatsoever, Spider-Gwen has power ballads (she's a musician in her universe) and bright colors, and Spider-Ham is a Looney Tunes style pig. When they all work in concert, it somehow produces an unbelievable surge of beautiful images rather than being an overload of visuals.
The script is comedic genius, as you'd expect from Phil Lord, but it contains a shocking amount of really dark moments. Death isn't reserved for just Uncle Ben, because part of being Spider-Man is losing someone in the past, and we have a lot of Spider-Beings. This makes even the goofy parts of the movies feel like there are actual stakes to the fights.  Also, your villain gets a backstory that lasts maybe 45 seconds, but is so complete that it almost justifies all of his actions throughout the movie, something that continues the ambiguous Marvel villains series (Thanos was right-ish).
It also contains possibly the best Stan Lee cameo (R.I.P. you wonderful man).
This isn't just the best Spider-Man movie; this might be the best superhero film. If you can, see it in the theaters, because the visuals merit the big screen. If you can't, see it anyway, because the script merits a small screen.
Ten Stars. Four thumbs up. 100% Fresh. Whatever you want to say, this movie is one of the best things I've seen in a while, maybe since How to Train Your Dragon. Even though it contains a heavy dose of every cliche in the origin story handbook, it manages to play all of them with just the right amount of variance and sincere love for the characters that it reminds us why all of those tropes get used in the first place. I love this film.
If you want to check out some more by the Joker on the Sofa, check out the 100 Greatest TV Episodes of All Time or the Joker on the Sofa Reviews.
If you enjoy these, please, like, share, tell your friends, like the Facebook page (https://www.facebook.com/JokerOnTheSofa/), follow on Twitter @JokerOnTheSofa, and just generally give me a little bump. I'm not getting paid, but I like to get feedback.
I don't usually do tributes, because the number of my heroes who are dying lately would require me to compose paeans on a daily basis. But, this is Stan Lee, so I'm doing one. I know there are millions of tributes to him on the internet, some from greater writers than I will ever aspire to be, but the man's work meant a lot to me, so I'm going to add my voice to the mournful wail that the world has produced at his passing.
While he did work on Captain America and he created some characters during the Golden Age of Comic Books, it's probably inarguable that Stan Lee's heyday was the Silver Age. The Golden Age had been filled with simpler heroes: Hercules-esque men and Amazon women who punched hard and always did the right thing. Even when DC Comics revived Superheroes by introducing a new Flash (Barry Allen) and new Green Lantern (Hal Jordan), both of whom were considerably more nuanced than their predecessors, the heroes were still unambiguously good and fought for justice for justice's sake. Lee, however, worked with various artists to introduce different kinds of heroes. The Fantastic Four, a family of heroes, one of whom feels constantly like a social outcast, and all of whom were full of fears, weaknesses, and insecurities; Spider-man, a kid for whom superpowers were a burden, not a blessing; The X-Men, people who were shunned for the way they were born (no metaphors here, obviously); Iron Man, an alcoholic who constantly lived on the edge of death. These were characters that changed our perception of how stories could be told.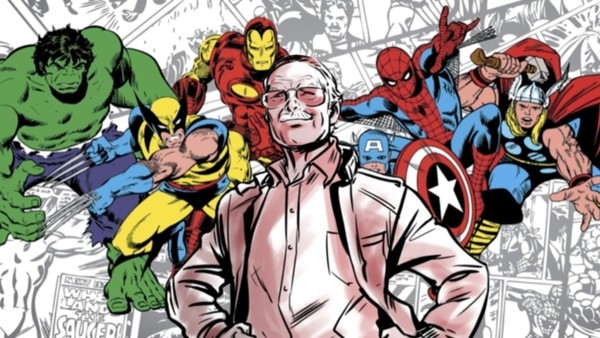 Besides the heroes, his villainous creations showed that the bad guys no longer were the snickering bald mad-scientists and gangsters of the Golden Age. Magneto was a holocaust survivor who (possibly correctly) believed that mutants couldn't live peacefully with their human oppressors; Doctor Doom was a super-genius who, though driven by personal hatred, actually KNEW that the only successful future for humanity was under his rule; Galactus was a God-level entity that heroes had to stand up to, despite being little more than ants to him.
Additionally, Lee was willing to break social barriers with his stories. He famously did an anti-drug comic arc featuring Spider-man which the Comics Code Authority refused to approve (because drug use was banned, period). He co-created the first mainstream black superhero, Black Panther, and the first African-American superhero, the Falcon. He knew that the audiences for his works were mostly kids, and he believed that introducing heroes of color would lead fewer people to just blindly accept the bigotry that had permeated the past. He famously penned a "Stan's Soapbox" dedicated to addressing Bigotry:
Let's lay it right on the line. Bigotry and racism are among the deadliest social ills plaguing the world today. But, unlike a team of costumed super-villains, they can't be halted with a punch in the snoot, or a zap from a ray gun. The only way to destroy them is to expose them—to reveal them for the insidious evils they really are. The bigot is an unreasoning hater—one who hates blindly, fanatically, indiscriminately. If his hang-up is black men, he hates ALL black men. If a redhead once offended him, he hates ALL redheads. If some foreigner beat him to a job, he's down on ALL foreigners. He hates people he's never seen—people he's never known—with equal intensity—with equal venom.

Now, we're not trying to say it's unreasonable for one human being to bug another. But, although anyone has the right to dislike another individual, it's totally irrational, patently insane to condemn an entire race—to despise an entire nation—to vilify an entire religion. Sooner or later, we must learn to judge each other on our own merits. Sooner or later, if man is ever to be worthy of his destiny, we must fill out hearts with tolerance. For then, and only then, will we be truly worthy of the concept that man was created in the image of God–a God who calls us ALL—His children.
This was a man speaking to millions of kids and telling them that heroes weren't going to stop this particular evil. It was up to all of them to refuse to fall victim to it.
I'm not going to say that Lee was without his faults. Like most people, he did some shitty or stupid things from time to time. However, unlike most people, he created amazingly interesting stories that tried to show people how to be better, or to get them to empathize with classes of people that they would never have known otherwise. He didn't give us Superman saying "always be good and bulletproof," he gave us Spider-man saying "it's hard to do the right thing, but if you don't do it and something bad happens, you'll feel terrible about it." He didn't give us the Justice League saying "let's go punch aliens," he gave us the X-Men saying "we will overcome the hatred against us through the power of our own willingness to help those who hate us." In the end, those are the lessons I learned from being a kid reading those comics or watching the animated shows: The world isn't simple and it isn't pleasant, but it is fixable. One heroic act at a time. 
Ever upward, Stan. Thanks for a lifetime.
P.S. Thanks for She-Hulk. No other character ever led me to drunkenly write a screenplay at 1 AM.