Leela finally learns the truth about her cyclopic origins and it will bring a tear to your single large eye.
SUMMARY
The Professor (Billy West) builds a machine to make glow-in-the-dark noses and decode alien language which produces a lot of toxic waste. Bender (John DiMaggio) offers to dispose of it, which he does by dumping it on the sewer mutants. The mutants don't appreciate this. 
Leela (Katey Segal) gets named "Orphan of the Year" for becoming a spaceship captain, and receives it while telling the other orphans that they should be proud of who they are. However, she tells Fry (West) that it was a lie, because she only ever wanted a family to love her. She hopes that her parents are looking down on her, only for it to be revealed that her parents Turanga Munda and Turanga Morris (Tress MacNeille and David Herman) have been watching her the whole time… because they're mutants living in the sewers.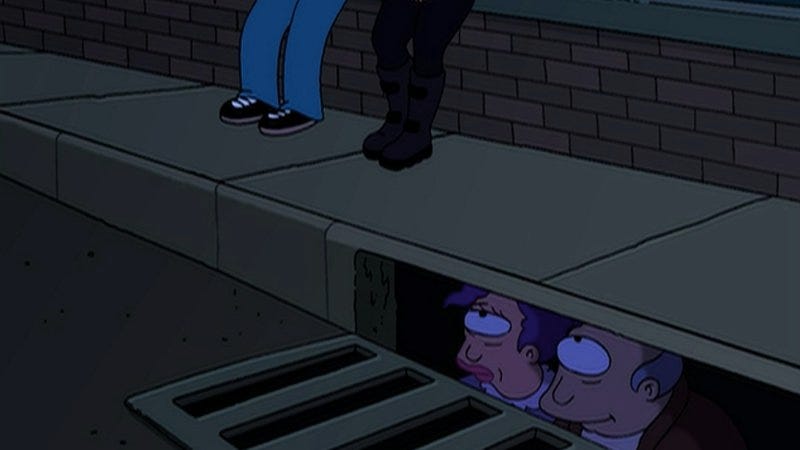 The mutants finally get fed up by Bender's dumping and pull him, Fry, and Leela into the sewers, preparing to dump them in the lake which Bender's waste has made so much more toxic. The three are saved by two strangers who know Leela's name. The crew follows them through the sewers to a house which has a ton of stuff about Leela. The mutants catch up and try to execute them, but the strangers convince the mutants to let them go. Leela dives into the mutagenic lake to pursue them, emerging to find out that it had no effect on her. 
Back on the surface, Fry gives the note found on Leela's baby basket as a child to the Professor so that he can decipher it. He uses the nose machine and eventually gets a result. In the sewers, Leela chases the two strange mutants and confronts them in their home covered in Leela memorabilia. She suspects they're the mutants who killed her parents and is about to kill them when Fry unmasks them, revealing that they ARE her parents (something the audience already knew). Fry reveals that the note, while indecipherable, was written on recycled paper from the sewers, meaning that her parents were mutants, not aliens. In a flashback, it's revealed that the pair left Leela on the surface so that she wouldn't be subject to mutant discrimination. Rather than being mad at them for abandoning her, Leela embraces them, happy to find them. It's revealed in further flashbacks that Leela's parents have always been looking out for her from afar.
END SUMMARY
Well, this is what has to happen when you suspect that the show is not going to get another season: Wrap up those plot threads. This one had long been dangled, though not as directly as the secret origin of Fry that comes up later in the season. Back in season 2's "I Second That Emotion," Leela's parents are shown in a crowd of mutants, and their resemblance to Leela is painfully obvious, but that is pretty much it until this episode. According to the DVD Commentary, they had decided they should wait at least 3 seasons to reveal Leela's origins, even though they were written before the pilot was shot (that's why there are mutants in the sewers in the Pilot).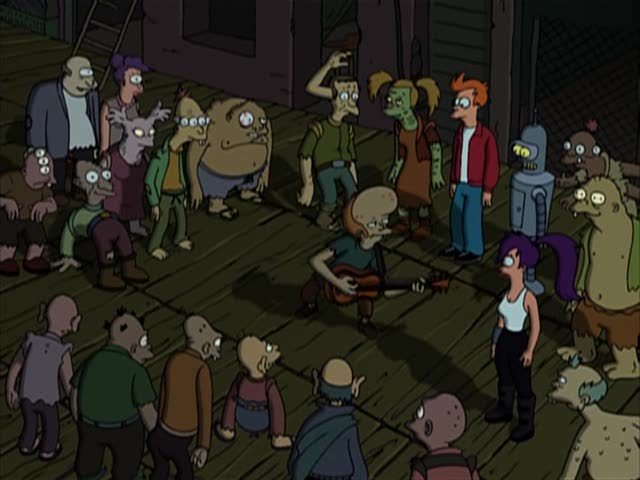 This isn't a bad reveal by any means, since ultimately we were going to need an explanation as to why Leela appeared to be the only real cyclops in the universe despite her searching everywhere for evidence. This resolution shows that the reason why she couldn't find them is that she was looking everywhere except below the Earth's surface, because she'd been told she was an alien her whole life. It's a great way to not impugn Leela's intelligence while still making the solution viable.
The ending to this episode is one of the best tearjerker moments in the series. It's so well done and so heartwarming that it would stand out more if it weren't soon to be overshadowed by "Jurassic Bark," which pretty much dominates the "I'm not crying, you're crying, but I'm also crying" charts. Still, they perfectly convey how Leela's parents have really done their best to be involved in her life, despite not being able to ever be near her. The fact that it's completely silent aside from the musical accompaniment, like most of Futurama's best montages, only makes it tug harder at your heart strings. I can't hear "Baby Love Child" by Pizzicato Five without thinking of this sequence… but to be fair I don't hear that song much.
I enjoy this episode a lot. Sure, it's not the funniest, but it does do a good job of focusing on Leela's emotional journey and it gives us a happy ending that was well-earned. I can't ask for much more than that.
FAVORITE JOKE
The awards that are given to the "Orphan of the Year" always give me a chuckle, because they're just the right amount of tragic and amusing. They include "Diligent Flosser," "Has Tasted Every McDonald's Sandwich," (which I think is genuinely impressive if you mean EVERY sandwich they've made in every country), and "Successfully Switched from Heroin to Methadone," which is a reference to Annie Hall. However, I have to appreciate the one that says "Often seen in the Background of News Spots," because a few minutes later, he appears in the background of Leela's photo with her Orphan of the Year award, one of the most random quick call-backs in the entire run of the show. 
Well, that's it for this week.
See you next week, meatbags.
NEXT – Episode 57: Love and Rocket
If you want to check out some more by the Joker on the Sofa, check out the 100 Greatest TV Episodes of All Time, Collection of TV Episodes, Collection of Movie Reviews, or the Joker on the Sofa Reviews.
If you enjoy these, please, like, share, tell your friends, like the Facebook page (https://www.facebook.com/JokerOnTheSofa/), follow on Twitter @JokerOnTheSofa, and just generally give me a little bump. I'm not getting paid, but I like to get feedback.